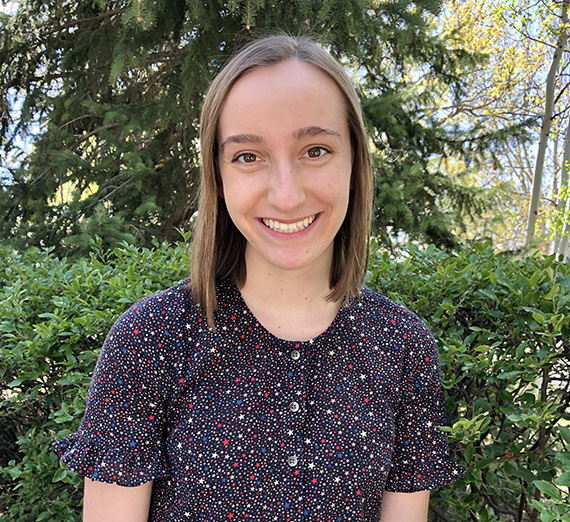 2020 Award: Department of Chemistry and Biochemistry Award in Organic Chemistry
Major: Biochemistry
Minor: Philosophy
Hometown: Billings, MT
Extracurricular activities: Research in Cremeens Lab, Science in Action, Gonzaga Environmental Organization, Social Justice and Solidarity Living Learning Community
More about Paloma
Future Plans:
After my time at Gonzaga, I plan to pursue a graduate degree in chemistry. Eventually, I hope to be able to continue exploring and learning in the field of chemistry with students and colleagues at an academic institution.
How has your major contributed to your professional or personal development?
Pursuing a biochemistry major has been a humbling experience. Going through the Biochemistry course work, I've experienced a lot of failure. I think the most important part of failing in science is recognizing it as an opportunity to learn and to grow. Taking moments in my day to pause and reflect on what I've experienced has made me a more intentional learner and person.
What has been your proudest or most significant accomplishment during your Gonzaga career?
One of the things I've been most proud of during my time at Gonzaga has been participating in Science in Action. One of the most challenging obstacles which we face as prospective and current scientists is developing communication skills to share our knowledge with non-scientific audiences. Understanding the information is a challenge but being able to communicate its significance to incite meaningful change at personal and political levels gives our pursuits a larger scope of meaning. Science in Action has been such a great opportunity to practice translating scientific concepts into a language which others can understand.
It is such a joy to be able to make science fun and accessible for K-6 students through Science in Action. Watching them experience the 'ah ha' and 'I can' moments in science is so rewarding. By making science accessible to these students at a young age, we're able to show them that science isn't just for people who look or act a certain way. It's for anyone who is curious to think about what lies beyond the naked eye.