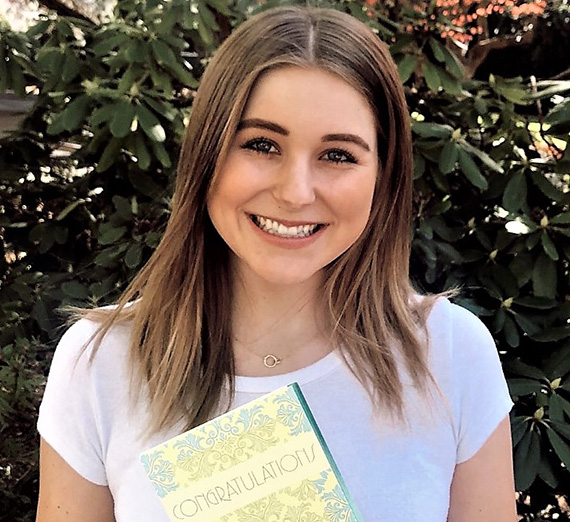 2020 Award: Blum scholarship for French Major
Major: Public Relations and French
Minor: Marketing Promotions
Hometown: Wenatchee, WA
Extracurricular activities: CCE Zag Study Buddies Volunteer, Ronald McDonald House Charities volunteer, Phi Sigma Iota International Languages Honor Society member, Christian Living Community (CLC) member.
More about Paige
Future Plans:
As of right now, I would like to work in a public relations or marketing position for a non-profit following graduation. Someday, I want to live and work abroad, so that I can continue to use my French. A master's degree is also an option I would like to pursue, there are so many paths available and I am excited to see where my life takes me.
How has your major contributed to your professional or personal development?
I can't speak highly enough about the French program at Gonzaga. Learning another language has been one of the most beneficial things I have ever done. I know that it will help my communication skills, my knowledge of the world, and be a way for me to continue learning for the rest of my life. The Public Relations program has also given me so many resources, skills in speaking, networking, confidence, and writing that I am so grateful for. My combination of majors has turned me into a well rounded student and I have been influenced so positively by all of my professors. I am eternally grateful for all of the support from Dr. Boyer and Professor Semple in the French department and feel so honored to be given this award.
What has been your proudest or most significant accomplishment during your Gonzaga career?
My biggest accomplishment during my time at Gonzaga is in a nutshell, French. Studying abroad in a small town in the south of France called Aix-en-Provence was a challenging, but fulfilling accomplishment. In this town, very few locals spoke English, including the family I lived with. Having to adapt to the situation was challenging, but so rewarding. I remember the first time someone asked me for directions in France, and being able to tell them exactly where they needed to go was something so small, yet I don't think I'll ever forget it.