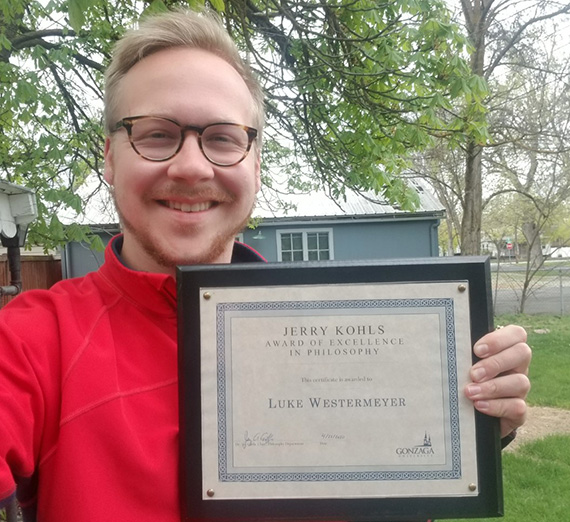 2020 Award: Kohls Award
Major: Mathematics and Philosophy
Hometown: Plymouth, MN
Extracurricular activities: Walking School Bus Mentor, Writing Center Tutor, Morris Fellow, drummer for Gonzaga's top Jazz Big Band and Combo, freelance musician around Spokane and Coeur D'Alene, Intramural and Pick-up basketball player.
More about Luke
Future Plans:
My future plans are up in the air. I'm hoping to stay in Spokane for the summer to play music, and would certainly love to stay in the Pacific Northwest beyond this summer for a while if possible. I'm still figuring out possible career paths--I think I would find many lines of work fulfilling. I'm mostly concerned with being a good person and making time for the things that really matter.
How has your major contributed to your professional or personal development?
Both Math and Philosophy have equipped me with a large toolkit of skills both for personal and professional development. Both majors cultivate strong critical-thinking and problem-solving skills. Wrestling with both disciplines has also improved my patience--it is totally alright to not understand everything! Furthermore, both majors have made me a more confident and clear communicator, because they force me to work through, discuss, and present very complicated ideas articulately. Maybe most importantly though, Philosophy has introduced me to thinkers who have significantly influenced the way I hope to relate to myself, others, and the world for the remainder of my life.
What has been your proudest or most significant accomplishment during your Gonzaga career?
There have been so many critical moments in my development during my time here at GU. It's hard to pick! I think my research on St. Paul, which began with a paper presentation on Paul and Dostoevsky at Gonzaga's Philosophy Conference and ended with my independent research presentation as a Morris Fellow on Paul in Contemporary Philosophy and Politics, was a big step forward in my intellectual development. Taking a semester and subsequent summer to wrestle with Paul and his many interpretations greatly improved the rigor and patience with which I approach research, and in many ways also affected the way I view our culture and politics today.