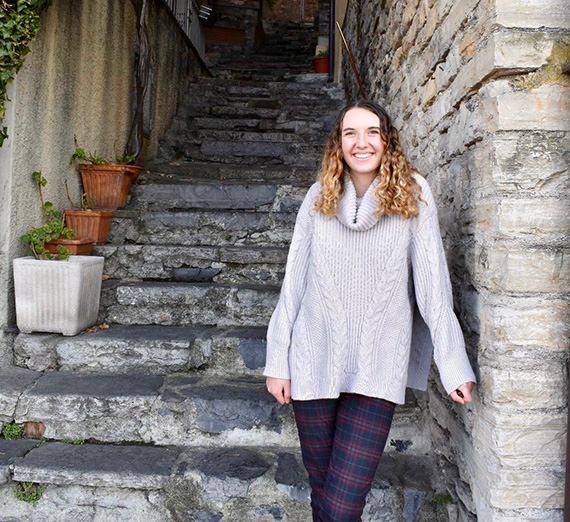 2020 Award: Criminology Award
Major: Criminal Justice, Sociology, Political Science
Minor: Solidarity and Social Justice
Hometown: San Francisco, CA
Extracurricular activities: GSBA, Women's Club Volleyball, Pi Sigma Alpha, Undergraduate Tutor, Criminology and Sociology Research Group, SMILE CCE, Volunteer at Children's Waiting Room, Volunteer Books for Prisoners
More about Laurel
Future Plans:
In the next year I hope to apply to law school or public policy graduate school to hopefully work to reform the criminal justice system through helping marginalized groups and implementing informed policy.
How has your major contributed to your professional or personal development?
Throughout my four years at Gonzaga University, I committed myself to learning about our justice system in the attempt to reform the complex, multifaceted, and mammoth system through my majors in Criminal Justice, Political Science, and Sociology. Tackling these multiple disciplines in school and through internships has not only exposed me to a catalogue of areas for improvement, but also gives me a wider breadth of knowledge to examine shortcomings, critically explore solutions to these problems, and engage in the community more constructively and intentionally. Exposure to and awareness of the injustices that others suffer has cultivated in me a sentiment towards criminal justice reform and thus is the catalyst for my solidarity. The Criminal Justice major at Gonzaga has incited in me a deep desire to go out into the world and apply the theories of justice that I have analyzed and grown to understand in the classroom and work to mitigate the uncountable injustices that plague our justice system. The Criminal Justice major has taught me that working to reform this system requires meaningful accompaniment with the affected communities, purposeful research into the workings of the system, and the implementation of informed policy and programs.
What has been your proudest or most significant accomplishment during your Gonzaga career?
My proudest moment was my time working at the Center for Justice participating in the reentry and criminal justice reform program. Working at the Center for Justice has shown me both the desperation for change within the criminal justice system as well as the incredible reformative work that is already being done. Working with those who have been affected by the criminal justice system has shed light on immense disparities, inequities, and structural roadblocks that these individuals deal with on a daily basis, preventing and handicapping their ability to fully receive true justice. These experiences working with marginalized individuals has emboldened and strengthened my passion for intentional public service, captivated my interest in serving the community, and demonstrated that social justice work can be impactful on an individual level. This internship also was my inspiration for my Sociology Thesis that focused on the collateral consequences of reentry on employment.