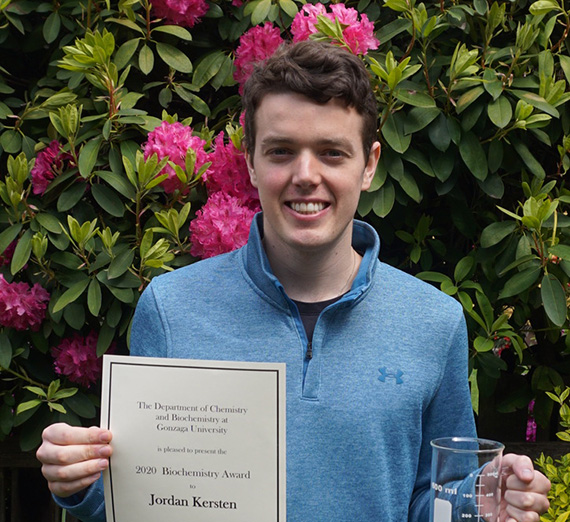 2020 Award: Department of Chemistry and Biochemistry - Biochemistry Award
Major: Biochemistry
Minor: German
Hometown: Portland, OR
Extracurricular activities: Mt. Spokane Ski Patrol Volunteer, Mountain Biking, and Rock Climbing
More about Jordan
Future Plans:
My future plans are fluid. I will be taking the next year off to work and reflect on what I would like to do next. In addition to working, I plan to continue volunteering with the Mt. Spokane Ski Patrol.
How has your major contributed to your professional or personal development?
Biochemistry has prepared me for a life of continued learning. It has challenged me academically and taught me how to be passionate and resilient in anything that I do. The degree has always pressured me to think critically and grow as both a student and scholar. Most importantly, this degree has surrounded me with role models. My professors illustrate our school's mission and have prepared me to pursue a life of leadership and service for the common good no matter what I do.
What has been your proudest or most significant accomplishment during your Gonzaga career?
Passing physical chemistry. All jokes aside… My proudest accomplishment during my Gonzaga career is the growth that I have seen in myself from the first day that I started. The anxiety and uncertainty from four years ago have been replaced with confidence and esteem. My Gonzaga career has afforded me relationships with friends, professors, and members of the greater community, that have shown me my potential to lead in the world. I am proud that I was able to learn from my professors and peers, grow as an individual, and pursue a degree that I am passionate about that has prepared me for whatever is next.