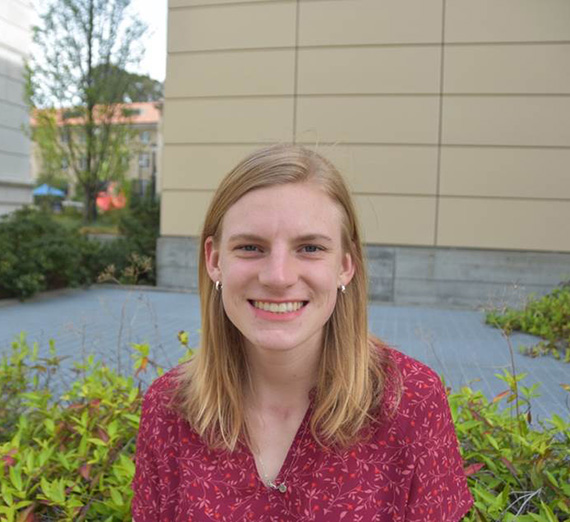 2020 Award: The Women's and Gender studies Founders' Award for Excellence in Academics
Major: Nursing
Minor: Women's and Gender Studies
Hometown: Shoreline, WA
Extracurricular activities: Gonzaga Student Nurses Association, Gonzaga Student Body Association
More about Holly
Future Plans:
I have committed to one year of service through Jesuit Volunteer Corps. I will be serving in Milwaukee, Wisconsin as a nurse at the Bread of Healing Clinic.
How has your major contributed to your professional or personal development?
My nursing major has provided me with all of the necessary skills and knowledge I need to practice as a nurse. The major has also taught me about the social determinants of health, how our health is influenced by our various personal identities, and how various forms of discrimination and oppression individuals face determine their health outcomes. Personally, the major allowed me to meet a multitude of wonderful, forgiving people that provided me with a space to practice both practical and communication skills with them during some of the worst days of their lives. I was touched by the patience and trust my patients awarded me. I am forever humbled by the joy that many of my patients provided me while learning in such a demanding and emotionally taxing environment.
The WGST minor helped me see the justice work that desperately needs to be done in the health care world - especially now. I plan on going into public health so that I can continue to provide care and offer support to the most marginalized patient populations. Health care is a privilege in our country, not a right. This fact leaves marginalized communities whose voices aren't heard to die before accessing health care, or, just as perversely, to die at the hospital because no one listens to them. I am beyond thankful for the WGST minor. It was the best thing I did for my education, and it will make me a nurse who provides better trauma-informed, justice-focused, patient-centered, holistic health care.
What has been your proudest or most significant accomplishment during your Gonzaga career?
My proudest accomplishment during my career at Gonzaga occurred when I was a Resident Assistant on the Women for Others Floor in Coughlin. I took my residents to the Women's March in Downtown Spokane, and after the event I came back to the common area to find one of my residents holding a cucumber and a condom. This resident was providing a quick tutorial to about 10 other residents on how to put on a condom. She then gave some advice on how to have conversations with a partner about what their expectations are for any form of sexual interaction. This is easily my proudest moment at GU because it means that I helped foster a safe community for these first year women to ask each other difficult questions and offer support. College-aged women often have the values of purity pushed onto them, as well as the expectation to be sexually experienced. This dichotomy is confusing and rooted in patriarchy, where either way women are meeting the needs and desires of men. Rejecting the value of purity, or not meeting the expectation of being sexually experienced, leads women to be silent about sex and how to practice sex safely. The fact that these women felt safe enough to be vulnerable in the common area that my door opens to meant the world to me. These women did this lesson all on their own, but I am proud of the community that I helped foster which gave this necessary conversation a space.