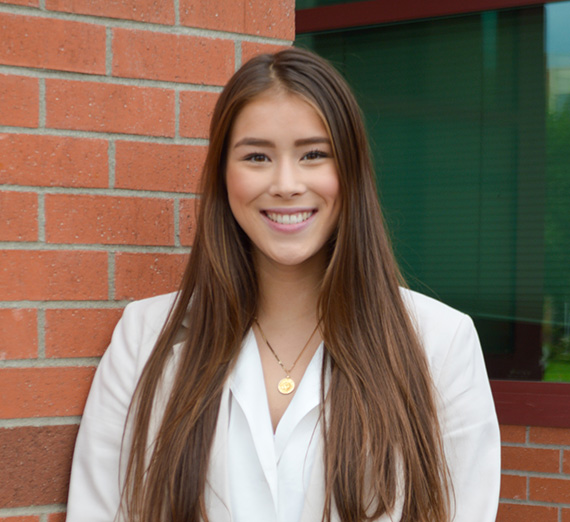 2020 Award: Anthony Wadden & Michael Herzog Scholarship for English Studies
Major: Business Administration (Concentration: Economics) and English (Concentration: Writing)
Minor: Women's & Gender Studies
Hometown: Corvallis, OR
Extracurricular activities: Writing Tutor at Gonzaga University Writing Center, Professional Representative at CPD, Marketing and Promotions Intern for Gonzaga Athletics, Previous Social Justice Peer Educator, Incoming Director of Diversity and Inclusion for GSBA
More about Haley
Future Plans:
This summer I will be working as a Finance Intern for Starbucks' Corporate Headquarters in Seattle, Washington. During my final year at Gonzaga University I will continue to work as a Writing Tutor and Professional Representative but additionally serve as the Director of Diversity and Inclusion for GSBA. After graduating in May 2021, I hope to begin a career path that integrates both my Business and English degrees while allowing me to promote social justice initiatives both in my community and in the workplace.
How has your major contributed to your professional or personal development?
The combination of my English degree with my Business Administration degree has set me apart from my fellow business major peers in that my ability to craft complex ideas, critically analyze rhetoric, communicate multifaceted points, and articulate and implement creative solutions are uniquely strengthened by my English major studies. Furthermore writing has become a powerful tool of mine that has contributed to both my professional and personal growth.
What has been your proudest or most significant accomplishment during your Gonzaga career?
Being on the first team of Social Justice Peer Educator's at GU has been one of my most significant accomplishments so far. As a part of the first-ever team we helped to establish precedents for the importance of social justice initiatives at GU and further helped pave the way for DICE's importance to be establish in all spheres of campus culture, notably within the residential housing and on-campus activities sphere.