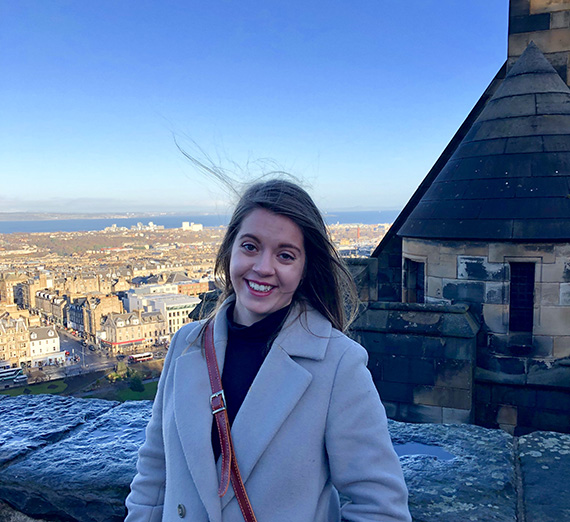 2020 Award: Global Scholar Award for Distinction in International Studies 2019/2020
Major: English and International Studies
Minor: Political Science and French
Hometown: Castle Pines, CO
Extracurricular activities: Editor-in-Chief, Charter; Advocate, The Borgen Project; Section editor and staff writer, The Gonzaga Bulletin; Ignatian Family Teach-In for Justice delegate; Southern Poverty Law Center On-Campus Treasurer; Alpha Sigma Nu Jesuit Honor Society; Sigma Tau Delta English Honor Society; New College Boat Club (University of Oxford); New College Music Society (University of Oxford); Gonzaga Mock Trial
More about Emily
Future Plans:
Next year I'll be attending the University of St. Andrews to pursue an MLitt in Modern and Contemporary Literature and Culture.
How has your major contributed to your professional or personal development?
My International Studies degree has done so much for me over the last four years. It's exposed me to the workings of international institutions, introduced me to theorists who've influenced my study of international relations and literature, and helped me realize how intertwined forces shape our global realities. The program allowed me to explore my areas of interest, especially forced migration, and study a new language. I've become more aware of the nuances that shape international political behavior and appreciative of cultural complexities. My time in the International Studies Department shaped the research interests that I hope to pursue while studying for my Master's and PhD. I'm excited to continue exploring the rich intersections of International Studies and English.
What has been your proudest or most significant accomplishment during your Gonzaga career?
I'm proud of the research I've been able to conduct at Gonzaga. I'm so grateful to have had the opportunity to give a lecture as part of the Gender and Pop Culture Series, to present my research at the Pop Culture Association National Conference, and to conduct research as a CURCI Fellow with Dr. Ciasullo.