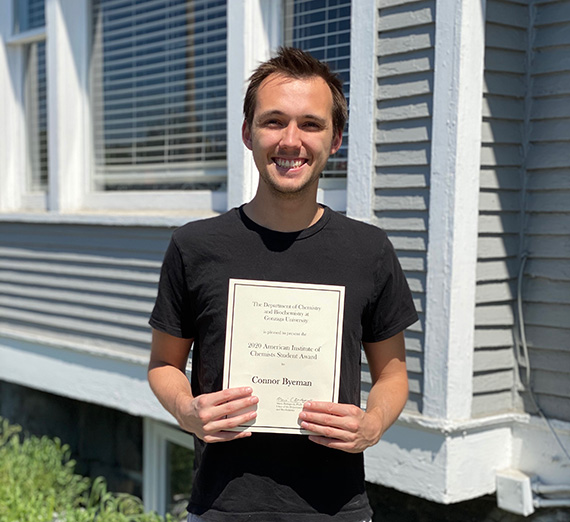 2020 Award: 2020 American Institute of Chemists Undergraduate Student Award
Major: Biochemistry
Minor: Mathematics
Hometown: Sherwood, OR
Extracurricular activities: Research, lab TA, on-campus tutoring, intramural sports, ER volunteering, community volunteering
More about Connor
Future Plans:
I will be attending the Carver College of Medicine at the University of Iowa in the fall to get my MD. Who knows where life will take me after that.
How has your major contributed to your professional or personal development?
Professionally, my professors have helped me grow leaps and bounds. They have always expected a lot out of me and my peers, and it pushed us to grow. Personally, my major helped me improve confidence in myself. A large majority of work in chemistry is about running experiments and interpreting data, and when I first started at Gonzaga I was afraid to make any solid conclusions in fear of being wrong or messing some important experiment up. My mentors have forced me to fail, learn from my mistakes, and I am no longer as timid as I once was when drawing conclusions. This doesn't apply to just my work, either, but my important life decisions as well.
What has been your proudest or most significant accomplishment during your Gonzaga career?
I have worked at the Learning Studio as a Learning Assistant since my first semester at GU. Since, I have spent hundreds of hours working with others students in fields that I enjoy and am happy to say I have been a part of the growth of the Learning Studio as a whole. Looking back on all the time I spent working with other students, many of whom turned more into friends over time, and the hopefully positive impact I made on their time at GU is my proudest accomplishment.