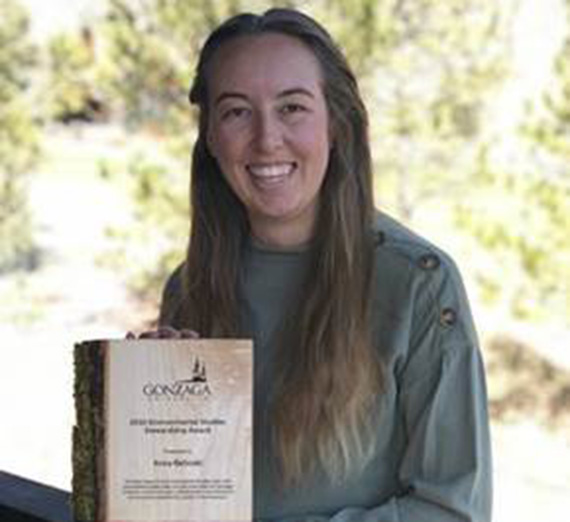 2020 Award: ENVS Stewardship Award
Major: Environmental Studies and Sociology
Hometown: Aspen, CO
Extracurricular activities: Office of Sustainability Student Engagement Coordinator, Gonzaga Outdoors Trip Leader, Rethink Waste student club, Mend it Monday program.
More about Anna
Future Plans:
I plan to take a year off of schooling and work while I apply to law schools to begin in the fall of 2021, focusing on environmental law!
How has your major contributed to your professional or personal development?
Professionally, my major has pushed me to improve my written and oral communication skills and instilled in me a high tolerance for large bouts of reading both in the social and hard sciences, all of which are essential to success in the legal field. But personally, this major has done an excellent job of forcing me to dig into my own beliefs and interactions with the world to ensure that the work I do moving forward is both wholly in line with my understanding of the ecological crisis, and that the work I do addresses more than just symptoms of the larger issue at hand.
What has been your proudest or most significant accomplishment during your Gonzaga career?
I don't think I can pick just one. Looking back at my time at Gonzaga, what is the most significant to me are the multitude of areas I was able to be involved in over the years and help push toward more sustainable and environmentally conscious engagements. That I was able to touch this campus in so many different ways, personally, academically, and professionally, feels like my proudest accomplishment.