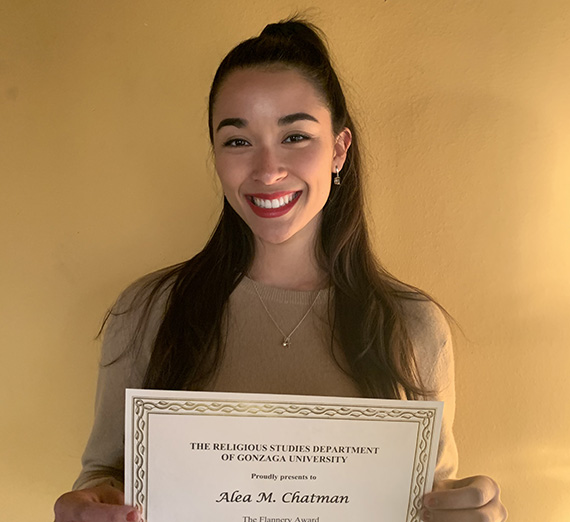 2020 Award: Flannery Award for Excellence in Religious Studies
Major: Religious Studies
Minor: Leadership Studies
Hometown: Port Orchard, WA
Extracurricular activities: Alpha Sigma Nu, Theta Alpha Kappa, Comprehensive Leadership Program, Christian Life Communities, and Kennel Club
More about Alea
Future Plans:
I am planning on applying to law school in the Fall. The type of law I will practice is to be determined, but I am ultimately looking for something which will help lift up individuals and communities on the margins of society.
How has your major contributed to your professional or personal development?
Religious Studies has taught me to appreciate ambiguity. I thought I came to college to learn all of the answers; I thought that's what being smart and educated was all about. But, studying religion has shown me how, oftentimes, people, society, and phenomena do not fit into neat boxes, and to try and place them into said boxes would be unjust. Understanding and growing to appreciate grey area has transformed the way in which I connect with people and understand society.
What has been your proudest or most significant accomplishment during your Gonzaga career?
The accomplishment I am proudest of during my Gonzaga career is the growth I have seen in myself. Reflecting on where I was intellectually, emotionally, and spiritually prior to Gonzaga versus now, I am reminded of all the hard work I have done, both inside and outside of the classroom, to better myself. I am beyond thankful for the promotion of cura personalis that Gonzaga is committed to fostering. It has truly changed my life.