Registration closed on Monday, September 4.
If you have any questions, please email Bob Finn at
finn@gonzaga.edu
.
Join us for the annual Seattle and Tacoma Chapter Golf Tournament at Washington National Golf Club with all net proceeds benefiting the Regional Seattle Scholarship Fund.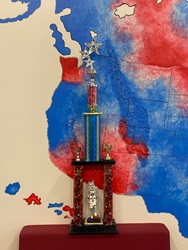 The winning score will go up against the Portland Chapter's golf tournament for the coveted Zag Chapter Cup trophy!
Format: 2-person scramble
Scramble format involves 2-person teams where each player on the team hits a tee shot, and then the players decide which shot they like better. The two players then play from that spot. The person whose shot was not taken picks up their ball and moves it to within one club length of the selected spot. Learn more
Date : Saturday, September 9
Time: 8 a.m.–2 p.m. PDT (shotgun start)
Location: Washington National Golf Club 14330 SE Husky Way, Auburn, Washington
Golf registration fees*: $160 single player / $320 2-person team
Golf registration includes: golf, cart, drink ticket, and lunch.
*The Championship and Final Four sponsorship levels include two 2-person team registrations. The Zag sponsorship level includes one 2-person team.
If you are interested in promoting your business or brand at the event, we are offering unique sponsorship opportunities to meet every budget. No matter how big or small your organization is, we want you to be a part of our community event.
For more information and questions, email Bob Finn, senior alumni engagement officer, at finn@gonzaga.edu
Includes:
Two 2-person teams registration
Prominent mention in selected promotional materials
Opportunity to include items in participant goody bags
Two (2) premium hole sponsorship with signage
Representatives from Company are allowed to interact with golfers at their assigned hole
Reserved table seating
Recognition on GU Seattle and Tacoma Chapters' Facebook pages
Opportunity to speak at awards ceremony
Logo in every golf cart
Includes:
Two 2-person teams registration
Opportunity to include items in participant goody bags
Signage on one (1) par 3 hole
Recognition at awards ceremony
Recognition on GU Seattle and Tacoma Chapters' Facebook pages
Includes:
One 2-person team registration
Opportunity to include items in participant goody bags
Signage on one (1) par 3 hole
Recognition at awards ceremony
Recognition on GU Seattle and Tacoma Chapters' Facebook pages
Includes:
Signage on a hole
Representatives from Company are allowed to interact with golfers at their assigned hole
Recognition at awards ceremony
Recognition on GU Seattle and Tacoma Chapters' Facebook pages
Includes:
Signage on a hole
Recognition at awards ceremony
Recognition on GU Seattle and Tacoma Chapters Facebook pages