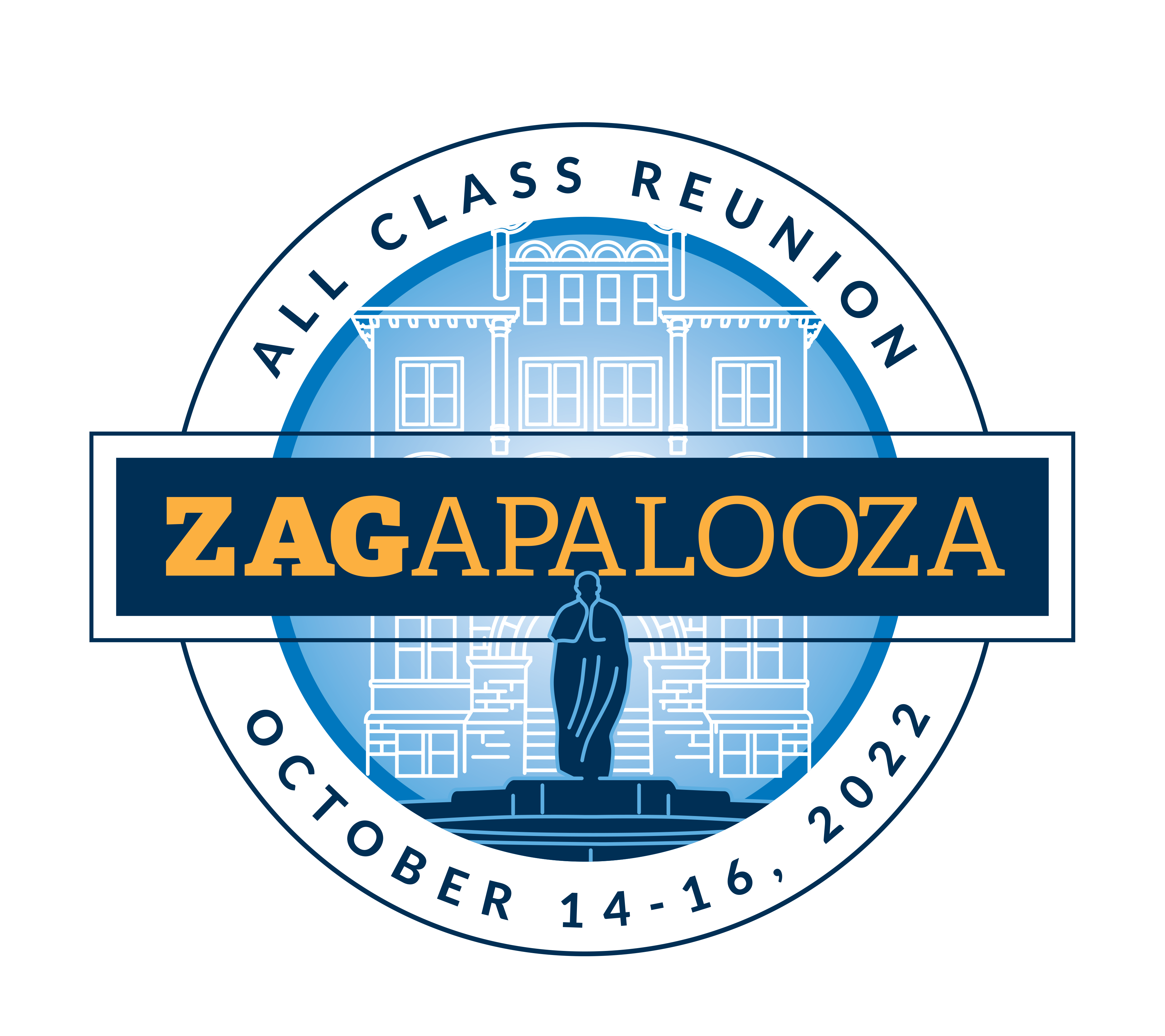 Please note: this schedule of events is tentative and subject to change. As events for the weekend are finalized, this schedule will be updated.
Cost
$150
An all-inclusive fee for the weekend includes all events you choose to attend, special Zag Shop discount to be used all weekend on campus, Zag Swag welcome gifts, food and beverage at most events. *See below event descriptions for food and beverage hosted at each event.
Register before September 15th to be entered into a drawing to win Zag apparel from the Zag Shop! Names will be drawn during the BULLDOG BLAST.
The last day to register for Zagapalooza is September 25th.
Pre-Zagapalooza Weekend Event
Distinguished Alumni Speaker – Julian Aguon '04
Hemmingson Ballroom
Free event | Open to the public
Celebrate the 25th anniversary of University Multicultural Education Center and the recent launch of the first-to-launch Alumni Affinity Community, the Alum of Color Affinity, with this special celebration for alumni, students, and community members. Julian '04 will share readings, inspiration and reflections from his highly successful book "No Country for Eight Spot Butterflies," and engage the audience in a rich dialogue moderated with Dr. Raymond Reyes, Associate Vice President for Cultural Initiatives. Appetizers will be served, book signing offered at event conclusion. Pre-order the book here. Learn more about Julian here and by visiting his website.
Zagapalooza Weekend Schedule of Events
Alumni of Color/ Affinity Socials
Location TBD
More information coming soon.
Alumni & Employer Student Connections Social
Crosby Center
Our Zag Network is strong! Alumni and Employers are invited to connect with Gonzaga students seeking connections and mentors. Appetizers and beverages provided.
Welcome Reception
Hemmingson Ballroom

Raise a glass to Zags from all graduation years and pick up your Zag swag bag as we kick off our first reunion weekend in three years with music, appetizers and refreshments!
Voice Area Recital
Martin & Edwidge Woldson Recital Hall, Myrtle Woldson Performing Arts Center
Enjoy listening to our talented students studying vocal performance, in this beautiful new building! Performance is free—No tickets needed, just first come, first served and open seating.
Class Socials
Various Off-Campus Restaurants
Individual class social events are organized by class volunteers in partnership with the Alumni Office.
Please email gonzagareunions@gonzaga.edu by August 15 if you'd like to organize a social for your class. If your class is not listed below, we do not have an event in the works for your class at this time. Class years who do not have volunteer-led socials will be welcome to socialize in the Hemmingson Ballroom following the Welcome Reception Friday evening. More information coming soon.

Classes with Socials (as of August 5, 2022)
Individual location information will be provided soon.
1955
1957
1982
1992
1993
1994
1995
2000
2001
2002
2005
2008
2012
2014
2015
Combined social: 2020, 2021 and 2022
Unity House/UMEC Alumni Evening Social
Locaton TBD
Come join us as we unify both of the centers and experience a night out together in celebration.
Gonzaga-In-Florence Social
Barrister Winery
1213 West Railroad Avenue, Spokane, WA 99201
Calling all GIF alumni of all years! Let's raise a glass of the finest and toast to this memorable experience! Enjoy the Ben Joyce '01 Art exhibit on display.
60-Minute Walking Tour of Campus
Meet at the St. Ignatius Statue in front of College Hall (Ad Building)
Join GU tour guides on a walking tour of campus.
60-Minute Walking Tour of Campus
Meet at the St. Ignatius Statue in front of College Hall (Ad Building)
Join GU tour guides on a walking tour of campus.
Coffee and College Admissions "So you're raising a future Zag..."
Location TBD
More information coming soon.
Business and Bubbles
Jepson Center
Dean Ken Anderson invites School of Business Administration alumni attending Zagapalooza to join him and other School of Business Administration faculty for a morning champagne brunch and School update.
Office of Mission and Ministry Reflection
Location TBD
Participate in a reflection with the Office of Mission and Ministry. More information coming soon.

Dance For Parkinson's Class
Room #103, Theatre and Dance Studio Building
Participate in a GU dance class, led by Gonzaga Dance Students. Full Details

Lunch on Campus or around Spokane
Various location options
Enjoy lunch with your friends at your favorite campus location, or try our recommendations around Spokane! Check out some dining recommendations.
University Leadership Q&A
Location TBD
Connect with university leadership, and hear about what's new at Gonzaga and what is to come. Have a question you'd like addressed? Ask it at the event or email alumni@gonzaga.edu. * Leadership attending will be added soon. Appetizers and beverages will be served.
Women's Basketball FanFest (Tentative)
McCarthey Athletic Center
Join basketball fans for a first look at the 2022–2023 Women's Basketball Team. More information coming soon.
Unity House/UMEC Alumni Panel
Location TBD
Join the conversation and hear from alumni who were part of UMEC throughout its 25 years, and how it has impacted them since graduation. Event led by Rani Chavez and Liz Perez.
BULLDOG BLAST: Zagapalooza Homecoming
Spokane Convention Center
334 W Spokane Falls Boulevard, Spokane, WA 99201
"Home is where the Zags are." Dance the night away at the signature event of the weekend! Held at the Spokane Convention Center, this party will be the biggest of them all, with true homecoming spirit provided by our Zag student performers. Music, food, photos, prizes and fellow Zags!
Mass
Student Chapel, 3rd Floor, College Hall (Ad Building)
Join other Zag alumni and their guests for Catholic Mass. Light a candle at the Grotto in remembrance of a loved one or Gonzaga friend.