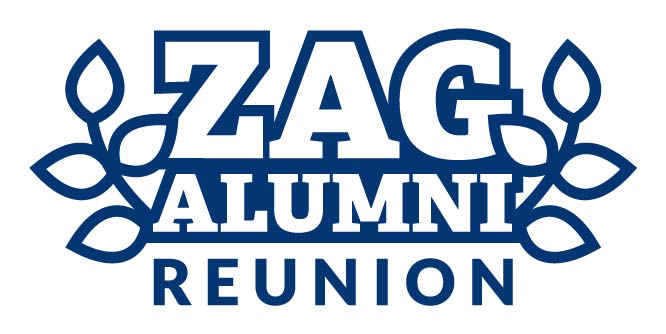 Important Reunion Announcement
We hope this message finds you well. We are reaching out to acknowledge your unique reunion experience as we plan during the COVID-19 coronavirus pandemic. As health protocols change rapidly, you have responded with grace, resilience, and an unmatched Zag spirit, and we are so grateful.
Here in Spokane, the safety of Gonzaga's campus and community remain our priority. We had hoped to be in a much different situation this fall. Unfortunately, due to continued rising cases of the Delta Variant in Spokane and recent increased hospitalization numbers impacting local healthcare, the University has made the difficult decision to cancel Alumni Reunion Weekend 2021. Additionally, the COVID data we are following forecasts the peak of the current rise in Spokane will be in mid-October, when we had planned for this event.
This decision was a very difficult one for our university. We know it is the most responsible decision, but we empathize with all of you, our loyal alumni, hearing this news. Our Alumni Relations staff had been working hard at providing you a wonderful weekend to connect with one another, at a time when it was much needed. However, as health protocols shifted in Spokane, we recognized that the experience you desired most, brimming with hugs, handshakes and shared meals, was not what we could safely provide. We've asked our students to observe various health and safety measures, who are just returning to live on campus. We believe we must also model the behavior we want them to follow in order to keep everyone safe, and we appreciate your support in this goal.
If you have already registered and paid for Reunion Weekend, we will be processing refunds for all registration fees that were paid. However, if you had planned to make a gift to the alumni scholarship this year and would like to use your Reunion registration funds, instead of receiving a refund, email us at gonzagareunions@gonzaga.edu and let us know by 9/22 and we will be happy to redirect the funds appropriately.
We still plan to gather! In collaboration with the university and various committees, Gonzaga's Office of Alumni Relations will be hard at work crafting an All-out, All-Class "Zagapalooza" Reunion weekend to take place in the Fall of 2022! We will announce the date in mid-January once it is confirmed.
Thank you for all you do as members of the Gonzaga community. We look forward to safely celebrating with you soon. If you would like to visit with an Alumni Relations staff member, please email gonzagareunions@gonzaga.edu.
Thank you — so much — for your partnership and understanding, during this unique time,
Kara Hertz '01
Executive Director
Alumni Relations
Joe Poss '97
Vice President
University Advancement
We hope to gather regionally this year, as it is safe to do so. Keep an eye on our calendar of events, and stay tuned on social and the ZagNation App.
Stay Connected!
Facebook @ZagAlumni
Twitter @ZagAlumni
Instagram @GonzagaAlumni
Notes for canceling travel plans:
Many airlines have adjusted their cancellation policies due to the uncertainty of the times. Alaska Airlines and Delta Airlines are a couple that offer moving your ticket purchase to another time. Please check with your airline and hotel for their cancellation policies.
If you still plan to visit Spokane this Fall and want to stop by campus, please note the visitor guidelines and join us in our effort to keep our campus healthy and safe.