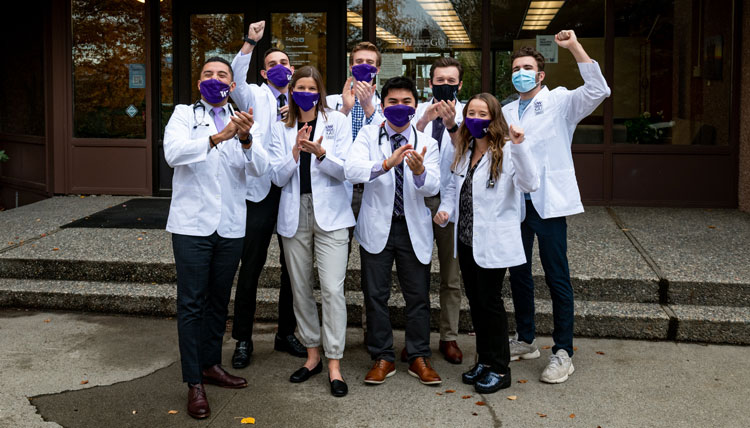 By Darryl Potyk, MD, Chief of Medical Education, Health Partnership; Associate Dean for Eastern Washington, UW School of Medicine
The role of a physician is a privilege and a responsibility, and we teach students from their first day of medical school an ethos of professionalism and earning patients' trust. As students progress they expand and refine their skills, gain knowledge and apply what they've learned to deliver a high level of care with compassion and grace.
Over the past year, the students, faculty and staff, and our 500-plus clinical partners throughout eastern Washington, have demonstrated resilience and have learned and grown. Our 60 first-year students attended class through a mix of virtual and in-person classes and labs. They supported the community through vaccine clinics and service-learning projects. Most of our second-year students conducted research in rural communities to address health inequities and disparities. And our third- and fourth-year students gained patient experience in rural communities throughout the region in clinical rotations to prepare themselves to match into residency programs and care for us and our loved ones.
This momentum and success is only made possible through the shared vision and values between the UW School of Medicine and Gonzaga University to help create healthy, vibrant communities throughout eastern Washington. Now in our sixth year, we've created a very strong Health Partnership built on collaboration, leadership and excellence. The synergy is evident, as many Gonzaga University undergraduate health sciences and UW School of Medicine programs align for learning and research, and our innovative new medical and health education building nears completion.
Looking ahead, UW School of Medicine and Gonzaga University will continue to educate high-quality healthcare providers to serve communities throughout our region and carry forward our legacies of graduating exceptional, community-focused students. As the pandemic continues to highlight inequities and challenges with healthcare delivery, our students will continue to make an impact through excellent, compassionate care to ultimately benefit the social and economic health of our communities.
There's more to explore in the Spring 2022 edition of Partners in Medical Education: A Report to the Community.