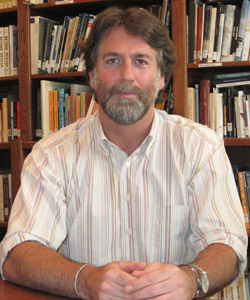 Pierluca Birindelli is currently Marie Skłodowska-Curie Fellow at the Department of Social Research, University of Helsinki – research project: "The Cultural Experience of International Students: Narratives from North and South Europe". At Gonzaga in Florence, he teaches Sociology of Italian Culture, Cultural Globalization, Sociology of the Arts and Cross Cultural Communication.
Birindelli earned his PhD in Sociology of Culture and Communication at the University of Florence and has been a PhD Visiting Fellow at the University of Texas at Austin and at Institut d'Etudes Politiques (Université de Paris). In 2010, he was awarded the qualification of Researcher in Sociology and Cultural Anthropology by CNR, the Italian National Research Council and in 2013 became Docent in Sociology at the University of Helsinki.
Birindelli taught in several academic institutions: University of Florence, Georgetown University, Gonzaga University, International Studies Institute, Vanderbilt University, Kent State University. Within the European Sociological Association he is member of the research networks "Global, Transnational and Cosmopolitan Sociology" (board) and "Sociology of Culture". In the International Sociological Association he is member of the Research Committees "Sociology of Communication, Knowledge & Culture" and "Sociology of Youth".
Birindelli has authored a number of articles addressing the themes of individual and collective identity, two books on youth and generations, a monograph about self-identity in late modernity and another book about cultural influences upon local politics and economy. He is also the author of the book The Passage from Youth to Adulthood: Narrative and Cultural Thresholds (2014).
Visit his website and the Cultural Experience of International Students blog.
Publications
Monographs
2018 (forthcoming) Cultural Experiences Abroad: Myths and Reality. Florence: Firenze University Press.
2014 The Passage from Youth to Adulthood: Narrative and Cultural Thresholds. Lenham, MA: University Press of America (Rowman & Littlefield).
2010 I giovani italiani tra famiglia e scuola: Una cultura della dipendenza. Trans. Young Italians between Family and Education: The Culture of Dependency, Rome: Aracne.
2010 Il futuro del distretto: Atteggiamenti, azioni e strategie degli attori locali. Trans. The Future of the District: Attitudes, Actions and Strategies of the Ruling Class. Rome: Aracne.
2008 Sé: Concetti e pratiche. Trans. Self: Concepts and Practices. Rome: Aracne.
2006 Clicca su te stesso: Sé senza l'Altro. Trans. Click on Yourself: Oneself without an Other. Rome-Acireale: Bonanno.
Peer-reviewed Articles and Book Chapters
2017 Forthcoming: Double Boundary and Cosmopolitan Experience in Europe. In Caselli M. and Gilardoni G. (eds.) Globalization, Supranational Dynamics and Local Experiences. Palgrave, pp. 15.
2015 Keeping it in the Family: The Absence of Young Italians from the Public Piazza. "Società Mutamento Politica", 6 (10): 147-172.
2013 La difficoltà teorica nell'interpretare il rapporto soggetti-territorio: Firenze e l'area metropolitana. Trans. Theoretical Difficulty in Interpreting the Subjects-Territory Relationship: Florence and the Metropolitan Area. "Voyages: Rethinking Nature and its Expressions": pp. 12.
2011 Playing as Reality: Youngsters Experience in Late Modernity, in M.F. Occhionero and M. Nocenzi (eds.) Youth and the Challenges of the Future. Rome: Aracne: 117-136.
2011 Il particulare italiano da Guicciardini a Banfield: Tra l'auto- e l'etero-riconoscimento. Trans. The Italian "Particulare" between Guicciardini and Banfield: Self and Other Recognition. "Società Mutamento Politica", 2 (3): 67-94.
2010 How to do Words with Things. "Vulgo.Net.", Multilingual European Review in Social Science, ISSN: 1213-5518: 1-17.
2010 Giovani sindacalisti e giovani lavoratori: profili identitari e di ruolo. Trans. Young Workers and Trade Unionists: Identity Profiles. "Vulgo.Net.", Multilingual European Review in Social Science: 1-13.
2009 Dall'Io al Noi all'Altro: Allenarsi al riconoscimento sostanziale. Trans. From 'I' to 'We' to 'Otherness'. "Lettera Fim", 2: 10-17.
2008 Un modo ritrovato di fare esperienza: Una via di uscita per l'identità dei giovani. Trans. New Meanings for 'Experience': Escape Routes for Young Self-Identity. "Appunti di Cultura e Politica", XXXl, 5: 31-38.
2008 L'assemblea del circolo politico: We Can solo se I Care. Trans. The Political Meeting: We Can only if I Care. "Appunti di Cultura e Politica", XXXl, 3: 29-32.
2008 Giovani e adulti. Il guscio anomico della società italiana. Trans. Young and Adults: The Anomic Shelter of Italian Society. "Lettera FIM" I, 1: 29-37.
2007 Rinnovare la politica: la dimensione culturale e l'onestà intellettuale. Trans. Renewing Politics: Cultural Dimension and Intellectual Honesty. "Appunti di Cultura e Politica", XXX, 6: 26-30.
2005 L'autonomia: quanto è difficile. Trans. Autonomy: How Difficult. "Lettera FIM", 5/6: 21-25.
2003 Costruzioni identitarie di giovani adulti. Il racconto di sé, la sfera privata e i suoi oggetti. Trans. Young adults' Identity Construction: The Private Sphere, its Objects and the Narration of the Self. "Rassegna Italiana di Sociologia", XLIV (4): 609-624.
2003 Lo spettacolo del dolore oltre il senso del luogo: l'esperienza dell'11 Settembre. Trans. The Spectacle of Suffering Beyond the Sense of Place: The Experience of 9/11, in G. Bechelloni and A. Natale (eds.) Narrazioni mediali dopo l'undici settembre: Dialoghi e conflitti interculturali. Rome: Mediascape: 57-66.
2003 Raccontarsi per ritrovarsi: dalle biografie di 50 giovani un circolo virtuoso. Trans. Narrating to Find Oneself: A Virtuous Circle from 50 Youngsters' Autobiographies. "New Auxology", VII, 2: 3-4.
2002 Le camere-Sé dei giovani adulti: spazi transizionali per l'autonomizzazione? Trans. Young Adults Self-Bedrooms: Transitional Spaces to Conquer Autonomy? "New Auxology", VI: 4: 5.