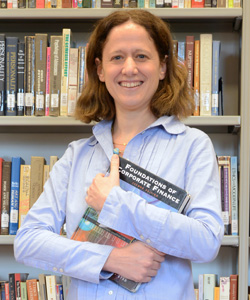 Maria Screti received her Master's Degree in Science from Bocconi University in 2004 with her final dissertation entitled: "The effects of cultural goods on regional development and job opportunities: the case of Tuscany" supervised by Prof. Lanfranco Senn.
After working in the Financial Department of Bank Monte dei Paschi di Siena, she began teaching Marketing, Principle of Finance and Environmental Economics for Gonzaga in Florence in 2009.
In 2013, she presented the essay: The relationship between Ethics, Economics and the Environment for the 3rd International Interdisciplinary Conference, "Re-Imaging the Earth and Human Existence," Gonzaga University, Florence, 22–23/02.
In the past three years she lived and traveled through Turkey, Kenya and Oman with her family, while continuing her research and studies in economics.
She moved back to Florence in June 2016, and she is now focusing her studies on the complex relationship between Cultural Heritage, viewed as a common good, and the economics associated with it.