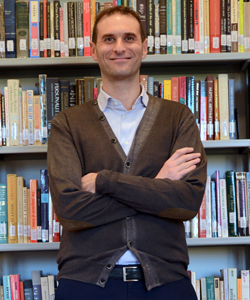 Marco Bracci got his B.A. in Political Sciences, his MA in Communication and Media and his Ph.D. in Sociology of Communication at the University of Florence. From 2002 to 2012 he taught sociological courses and was research collaborator at the Department of sociology and political sciences, University of Florence.
He is adjunct professor at Gonzaga in Florence, where he teaches Cultural Globalization and Intercultural and International Communication; he also teaches sociological courses at the Kent State University - Florence, at University of Minnesota - Florence, and at Richmond University - Florence. Marco is a member of the international research group "Personal Development" (UCAM-Spain), of the Italian Sociological Association, of the American Sociological Association, and of the Steering and Monitoring Committee of IRPET.
His research interests focus on social and cultural changes in late modernity, media, popular music, sports, deviance and identities. His publications include monographs, essays and chapters in books.
Some of his books are:
Da Modugno a X Factor. Musica e società italiana dal dopoguerra a oggi (2010)
Radici di Ferro e Futuro d'Acciaio (2012)
The Dark Side of the Moon. Viaggio nell'identità dei Pink Floyd (2013)
Some of his latest chapters are:
The "journey" of personal identity in The Dark Side of the Moon by Pink Floyd (2013)
On line music listening and consumption, and the re-definition of personal identities in our radical modernity (2013)
Stil Novo. The legendarily adventurous route of Italian music in search of pop(ular) maturity (2017)