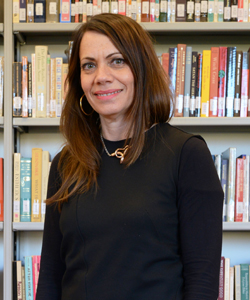 Lucia Mancini, born and raised in Los Angeles, holds a Bachelor of Arts Degree in Economics (magna cum laude) and a Masters in Business Administration Degree in Marketing (cum laude) from Loyola Marymount University. During her studies, she was the recipient of numerous scholarships and awards, including a full research fellowship, the Wall Street Journal Award for Best Economics Student, Marketing Scholar Award, Outstanding Student in Economics Award, and a Full Summer Scholarship for Study Abroad Perugia Italy.
After several years working as a Trade Analyst for the Italian Trade Commission in Los Angeles, Professor Mancini moved to Italy where she began a career as a Marketing Manager and Marketing Director in the luxury goods and fashion industries. During this time period she developed and managed the brand identity and strategies for various organizations. She has worked with Emagold, QVC, Fiorucci, DeBeers, and UnoAerre (among others). She has been an on camera expert spokesperson for QVC.
She currently teaches business courses at several prestigious study abroad programs in Florence including Gonzaga in Florence, Vanderbilt University, Brandeis University and Cornell University. At these programs she has created and/or developed business courses, facilitated relationships between the institutes and the local Italian private sector, formed exemplary site visit format to incorporate the location of Italy and in particular Tuscany into course study. At GIF she also supervises student internships. Professor Mancini has received consistently excellent student evaluations.
Professor Mancini strongly believes in motivating students through interaction and real world applications. Her goal is to teach students how to develop their individual strengths and how to use these skills to their fullest extent no matter what career path they choose.
Professor Mancini is mother tongue English and fluent in Italian. She is author of Living the Italian Lifestyle: A Self-improvement Program for Living a Slower, Simpler, More Fulfilling Life…Anywhere. Ebook, resources and audio.

Lucia Mancini lives in Tuscany with her husband, Alessandro, and their two children, Lorenzo and Christian.