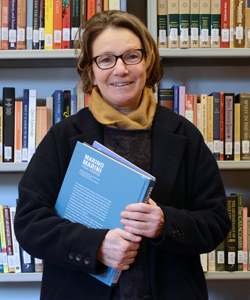 Cristina Gozzini has been teaching at Gonzaga in Florence since 2010. She teaches Sculpture Materials and Design I and II, as well as Figure Drawing and Painting.
Cristina is fluent in Italian, Spanish and English. Her education is as follows:
Teaching Diploma (Magistrale) Istituto Don Bosco 1973/77 (Pistoia, Italy)
Fashion Design Diploma - Centro Studi Aziendali 1978/79 (Florence, Italy)
English Certificate - British Institute 1978-79 (Florence, Italy)
Art Studies under Academy Sculptor: Santiago Planella 1992/3 (Florence, Italy)
Domus Academy, Artexperience 2005 Modelmania seminar Arte e Architettura Directed by Olafur Eliasson 2005 (Venice, Italy)
European Foundation of Drawing, Valerio Adami, La Fecondità del Cancellare 2011, (Meina, Lago Maggiore, Italy)
Accademia di Belle Arti di Firenze, 2014/17(Firenze, Italy)
For more information about her art, visit her website.
Contact: crgozzini@yahoo.it