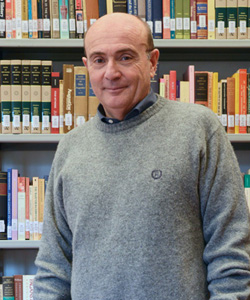 Andrea Giuntini holds a M.A. in Economic History, University of Florence, and a Ph.D. in Economic History from the Istituto Universitario Navale of Naples. He is currently teaching Global economic issues at Gonzaga in Florence, where he has taught since 1994.
He is fluent in English, French, and Spanish, and is currently an Associate Professor of Economic History at the University of Modena and Reggio Emilia, Department of Economics (since 2002). His research deals with contemporary economic history. His main fields of research are: history of networks, energy, transport and communications, public infrastructure, urban history.
He is member of several scientific associations: AISU (Associazione italiana di storia urbana), ASSI (Associazione di Storia e Studi sull'Impresa), EBHA (European Business History Association), IRHA (International Railway History Association), SISE (Società Italiana Storici dell'Economia), SISSCO (Società Italiana di Storia Contemporanea), Tensions of Europe, T2M (Transport, traffic and mobility), and Amici di Memoria e ricerca.
Dr. Giuntini is on the editorial boards of the following journals: Ricerche Storiche, Memoria e Ricerca, The Journal of Transport History, Transportes, servicios y telecomunicaciones, Archivio per la storia postale, Antologia Vieusseux, Storia economica.
He was abroad for study, conferences and Ph.D. Thesis Examining Board, in Argentina, Austria, Belgium, Czech Republic, Danemark, Finland, France, Germany, Great Britain, Greece, Holland, Norway, Poland, Portugal, Spain, Sweden, Switzerland, USA.
Contact: 00393487027082, andrea.giuntini@unimore.it