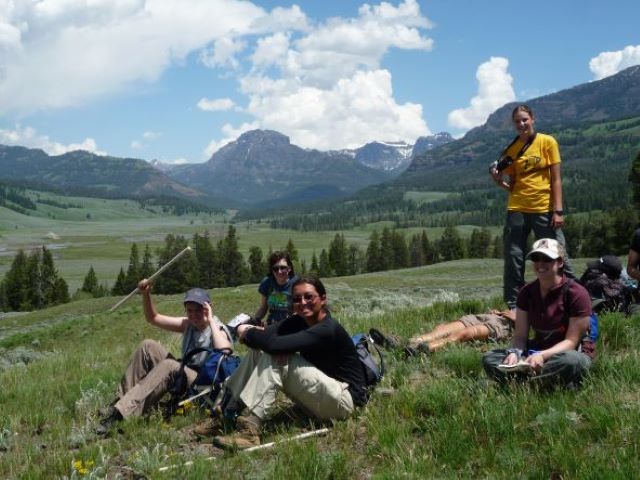 Gonzaga in Montana
In this 3-week program, we will immerse ourselves in the wild mountains and valleys of northwest Montana. Situated between two majestic mountain ranges in the scenic Swan Valley, our field campus is an old homestead converted into a bunkhouse and classroom. Based out of here, we will make excursions to Glacier National Park and nearby wilderness areas. We will meet with local wildlife experts, land managers, local ranchers, and environmental groups to discuss complex issues such as wolf reintroduction and grizzly bear management. In addition, we will study the natural and human history of the region and explore our own sense of place in the natural world through environmental literature and our own writing. This 6-credit program interweaves two courses; each fulfills a University Core requirement.
"I loved learning in the field. I was able to ask questions and see connections in person. I think I will retain this information much better because it was so tangible". Natalie V.
Important Information
Dates of Program
Courses
ENGL 306/ENVS 399, Nature Writing (3 credits) [core Writing Enriched designation]
This course invites us to write as a means of learning about ourselves and the people and places we encounter in the natural world. In virtual and physical environments, we will test ideas, create narratives, pursue lines of thought introduced by other writers and speakers, and reflect on our personal experiences. A variety of writing assignments will complement vigorous discussions and engaged readings.


BIOL 104 and 104L, Mountain Science and Mountain Science Lab (3 credits) [core Scientific Inquiry designation]
Using the northern Rocky Mountains as an example, a classroom, and a laboratory, this class will explore science as a way of understanding the world. We will learn what kinds of questions scientists ask, what kinds of approaches they use to answer them, and how scientific knowledge compares to other ways of knowing. We will learn by doing: posing questions of our own, collecting and analyzing data, and applying what we learn to the issues facing mountain environments today, including climate change, biodiversity loss, and balancing traditional versus emerging uses of the land.

Cost
Program Requirements
Gonzaga in Montana is open to all undergraduate students who meet the following admission requirements:
Minimum 2.5 GPA
Resolution Center for Student Conduct and Conflict & Study Abroad Office clearance
Faculty Leaders
John Eliason, Ph.D., Professor of English and University Writing Center Director

David Boose, Ph.D., Professor & Department Chair of Biology
Application Requirements
Application deadline: February 1, 2023
Spaces are limited and applications are reviewed on a rolling basis, so apply early!
Apply online at: studyabroad.gonzaga.edu