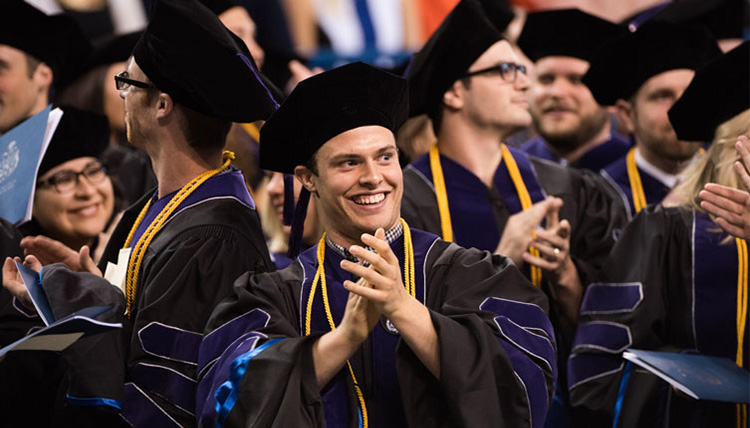 Law School Commencement 2019
For Law School students completing studies between December 2018 and August 2019. No tickets required for the open seating events. No guest limit.
No balloons, large signs, or loud sound items are allowed in the ceremony facilities. Each facility will utilize metal detectors and bag checks. Clear bags are not required.
Disabled seating is managed by the professional crowd support staff on site at each facility. Arrive early, and drop off your limited-mobility person(s) near the entry doors before parking.
Rental Attire Pickup
TBA by April 10th; Return gown and hood at the ceremony social. Tam with tassel is a keepsake item.
Law Commencement Mass
Friday, May 10, 5:30 to 6:30 p.m. University Chapel in College Hall.
All are welcome.
Law Commencement Ceremony
Saturday, May 11, 9:00 to 10:30 a.m. McCarthey Athletic Center
8:00 a.m. McCarthey doors open for guest seating
8:15 a.m. Class picture in front of School of Law Building
8:30 a.m. Graduates line up in the Martin Centre gym
9:00 a.m. Academic Procession and Ceremony begins
10:30 a.m. Reception in the Law School
Law Commencement Speaker
TBA April 10th
Law Medal Recipient
TBA April 10th
Law Student Speaker
TBA April 10th