For a Synodal Church: Communion, Participation, and Mission
Synod on Synodality Consultation at Gonzaga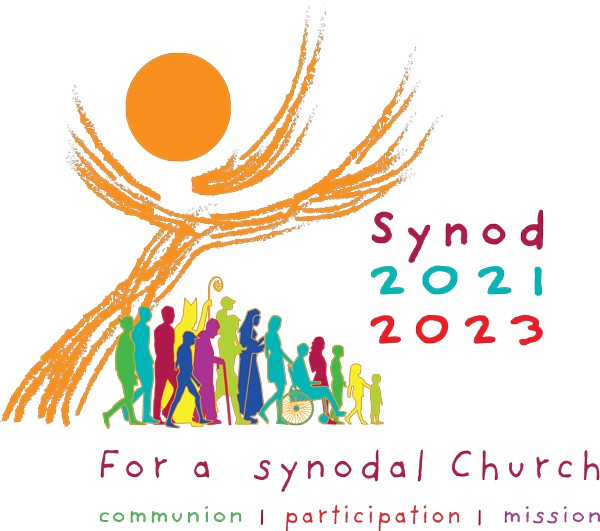 Pope Francis said, "It is precisely this path of synodality which God expects of the Church of the third millennium." (Ceremony Commemorating the 50th Anniversary of the Institution of the Synod of Bishops)
What is a Synod? What does synodality mean? And how does it relate to my experiences and Gonzaga?
"Synod" is an ancient word that refers to the way the Church journeys together. Over time it came to be known more specifically as a gathering called by a church authority to specifically address concerns facing the Church. For example, the "Synod of Bishops" is a body of that the Pope calls together to consult on specific themes within the Church. The theme for the upcoming Synod of Bishops is "For a Synodal Church: Communion, Participation, and Mission." Pope Francis is inviting us to not just think of synod in terms of a gathering but to also think of it as the "walking together" of the entire church by asking, how are we called to journey together?
"Synodality" comes from the word synod. It describes the mode—or style—in which the People of God journey together to live out the mission. It is an essential or "constitutive" part of the Church. And Pope Francis is saying that for us to journey together, we need to make sure the whole Church can participate in and be co-responsible for the life and mission of the Church. This is where you come in.
YOU—Your experiences matter! A key conviction underlying synodality is the common dignity of all the baptized and a belief that all believers have a sense of the faith (sensus fidei). In order to listen to the movement of the Spirit, Pope Francis wants to ensure that the People of God are consulted. We are in this consultation phase now and it is an invitation to listen for the movement of the Spirit through reflecting on your experiences and engaging in a mutual listening process. Synodality requires the participation of all the people since all the baptized are co-responsible for living the mission!
Gonzaga—We are inviting you to participate in a consultation event at Gonzaga. Around the globe, Catholics are being asked to engage in a synodal process of preparation where they might speak boldly and freely about the issues facing the church, the ways in which the church falls short in living into its identity and mission, and the ways the church might reach out and better listen to those on the peripheries so that it might live more fully into its identity and mission as a pilgrim people of God. Gonzaga University has been invited by the Association of Catholic Colleges and Universities to participate in the process.
Who is invited? Pope Francis extended the invitation to Catholics and all people of good will to participate in a worldwide process discerning how the Church might better walk together by listening to and learning from one another. These discernment conversations are open to all members of the university community: lay and ordained Catholics, weekly Mass participants and non-Catholics who seek to partner with Catholics in the struggle for justice, former Catholics and lapsed Catholics, struggling Catholics and lay Catholic ministers, new Catholics and cradle Catholics. ALL ARE WELCOME to participate.
What it will be? At Gonzaga we are holding 4 consultation events—2 for students and 2 for faculty and staff. There will be an opportunity to reflect and share in small groups with the support of a trained facilitator. We will send a few reflection questions in advance to prepare for the conversation. The consultation events are a time for mutual listening. It is not a time for debate, teaching, or correcting. It is an opportunity for all participants to give voice to their experiences of the ways the church has both done well and fallen short of its mission to cooperate with God's work to transform the world toward God's reign of justice and peace for all creatures. We are all invited to listen to the voice of the Spirit of God heard in the laments and celebration of those with whom we journey.
To Participate: Consultation Events—Spiritual Conversations at Gonzaga
Register for one of the following opportunities:
For faculty and staff on

Tuesday, February 22 (3:30 p.m. - 5:00 p.m.)

Wednesday, April 27 (4:15 p.m. - 5:45 p.m.)
For students on

Monday, March 21 (4:15 p.m. - 5:45 p.m.)

Tuesday, April 12 (3:30 p.m. – 5:00 p.m.)
On Zoom:


Tuesday, April 19 (3:30 p.m. - 5:00 p.m.)
If you would like to participate but are unable to make the scheduled events—please contact Beth Barsotti at barsotti@gonzaga.edu.
Resources:
For more information on the Synod visit the Vatican website, to read the "Preparatory Document"
If you are interested in learning more about synodality here are two helpful documents: