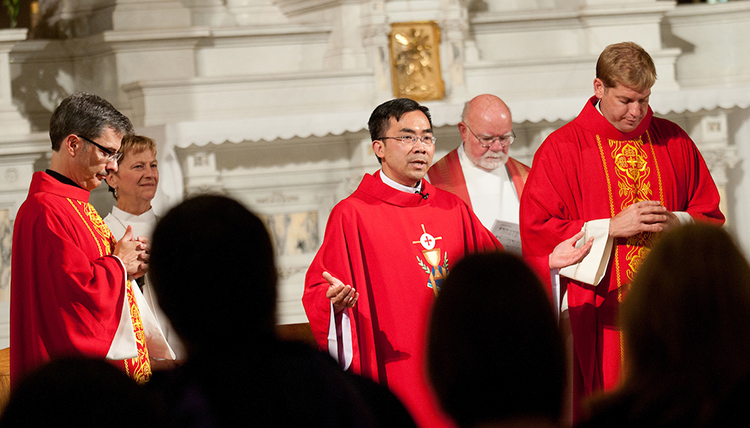 Welcome Mass
New students and their families are invited to join the Jesuit community and members of Gonzaga's administration, faculty and staff at a special Welcome Mass celebrated Sunday morning at the end of Orientation. Held in the McCarthey Center, this is a time of prayer for everyone, no matter what faith or religious background.
Mass of the Holy Spirit
The Gonzaga community unites in prayer, asking God's blessing upon the new academic year. Celebrated in St. Aloysius Church, students, faculty, administration and staff join in this longstanding Jesuit tradition.
Red Mass
Gonzaga's Law School joins with local legal professionals in this annual liturgical prayer at the start of each academic year. It is also an occasion to honor an outstanding figure in the legal profession. Date, time and location are available from the Law School.
Ash Wednesday Liturgies
2022 Distribution of Ashes:
8 AM, 12 PM, 3PM -- St. Ignatius Chapel, Law School
12:10 PM, 3 PM, 7PM -- University Chapel, College Hall
10 AM -- Hemmingson Rotunda
Easter Triduum Liturgies
Members of the Gonzaga community are urged to participate at liturgies in the local parishes for Holy Thursday, Good Friday, Holy Saturday and Easter. There are no public liturgies on the campus during the Easter Triduum.
GEL Weekend Mass
Prospective students and their parents are invited to a special Mass on the Sunday morning of GEL Weekend. This liturgy, open to people of all religious backgrounds, is held in the University Chapel on the third floor of College Hall.
Commencement Mass
Graduates and their families join in prayerful thanksgiving for their time at Gonzaga during a final liturgy held in the McCarthey Center the day before graduation. The Jesuit community joins with members of the University's administration, faculty and staff to ask God's blessing upon our graduating seniors.