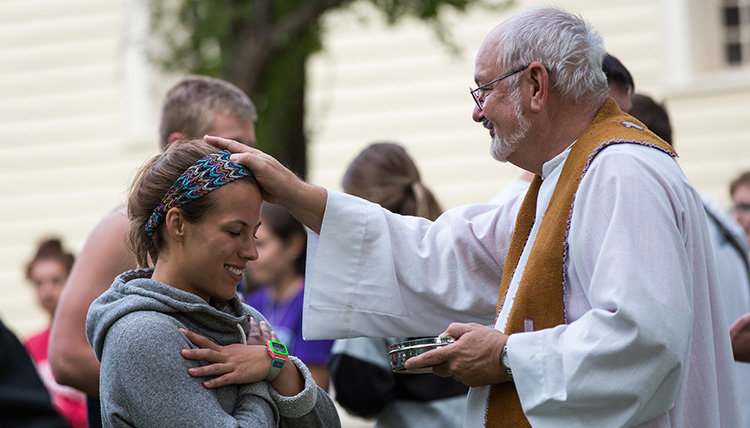 Mission Statement and Statement of Affirmation

Mission Values of Gonzaga University
Derived from the Statement of Affirmation

Strongly rooted in its Catholic, Jesuit, and humanistic heritage, Gonzaga University serves its community and the world through education, scholarship, artistic expression and professional and community engagement. As an institution of higher learning, Gonzaga is committed to the education of the whole person in mind, body, and spirit, aspiring to graduate well-rounded women and men who will make a difference for good in their communities and the world.

As a Jesuit Mission of the Catholic Church, Gonzaga University exists to teach and educate students at the baccalaureate and post-baccalaureate (Master's, Law, Doctoral) levels with a view towards combining a rigorous, contemporary academic program with specific values reflected in Jesuit and Catholic teaching. The responsibility for achieving this mission is not restricted to Jesuits or to those engaged in ministry; it is the responsibility of the University leadership and all who work and study at Gonzaga. The complexity associated with combining academic programs with Jesuit, Catholic, and humanistic values is real and ongoing; it can only be accomplished by facilitating a continuous dialogue within the campus community and fostering opportunities for the development of, and engagement in, practices that the community embraces and imparts.
---
The following Catholic, Jesuit, and humanistic values enlightening the work and vision of the Gonzaga community invite our reflection and discernment for their implementation.
Values of a Catholic University
The Catholic Church has defined in several key documents its desires for its universities and the students they educate; among these are the Apostolic Constitution of John Paul II, Ex Corde Ecclesiae, and various documents relating to the Catholic Intellectual Tradition and Catholic Social Teaching. Ex Corde Ecclesiae identifies the core purpose of the university as the pursuit of truth; it holds at the same time as essential a framing of "truth" in relationship to the Gospels and the teachings of the Church. The fundamental dynamic set up by Ex Corde Ecclesiae is one that seeks to understand how a Catholic university differs in its educational program from that of a secular university.
University education must include not only formal classroom instruction but also experiences which teach the student how to live a life of leadership, social justice, academic excellence, and intellectual pursuits, providing thereby a conduit of the values and doctrines of the Catholic Church into the communities where they live and work.

The Catholic Intellectual Tradition is rooted in a developing and authentic history of scholarship and teaching that derives from the Christian scriptures, the Church Councils, the founding of universities by the Church in the Middle Ages, schools of theology and spirituality, and major Catholic thinkers, artists and writers. This tradition, interpreted for our time by the Second Vatican Council and subsequent teaching, emphasizes the following characteristics of higher education:
The Complementarity of Faith and Reason as shown in the dialogue between religion and science.
The importance of Intellectual Community and Dialogue, especially the community of scholars and students engaged in learning and teaching, which include interfaith and ecumenical dialogue.
An Incarnational and Sacramental Vision of the world through the lens of the incarnation of the divine in the humanity of Christ. From this religious belief and from reason, Catholic higher education promotes a study of the dignity of the human person in society, of the ultimate purpose and significance of human history, and of the sacredness of intellectual understanding through all disciplines.
Whole Person Education that promotes the growth in students in all dimensions of their personhood - intellectual, emotional, social, moral, and spiritual. Such broad education also includes scholarship and teaching in all areas of human learning, including liberal education, scientific-technical education, and professional education.
Emphasis on humanistic Liberal Education, which calls for an integrated and reflective search for truth about the natural world through the sciences; the personal and social world through the humanities, social sciences, and fine arts; and the transcendent world through philosophy, theology, and spirituality.
Concern for Prophetic Witness and Service among its faculty and students as fostered by active learning and service carried out in the light of Catholic social teachings on justice and peace.
Catholic Social Teaching has developed a rich body of principles and ideals to guide the behavior and activity of individuals and communities. Some of the key elements of this Teaching include:
Belief in the inherent dignity of the human person; all people are made in the image of God.
Each person has a responsibility and right to contribute to the good of the whole society, the common good.
Every person has a fundamental right to life and to those things that allow for a decent life. With these rights come duties and responsibilities - to ourselves, our families, our society.
The common good and a just society cannot be attained without working to positively impact the state of the poor, the vulnerable, and those marginalized by society at large.
All people are to be assured a right to participate in the economic, political, and cultural life of their society.
All people have a right to work, and access to safe and fair working conditions. Economic progress and prosperity cannot occur as a result of human exploitation.
Humans are the stewards of God's Creation, and thus are responsible for preserving the earth for future generations.
We acknowledge our identity and responsibility as members of a global human community, one which recognizes common objectives despite national, racial, cultural, ethnic, ecological differences.
Core to the nature of humans as social beings is the necessary and appropriate role of government in keeping with the principle of subsidiarity. The function of government is to support the pursuit of the common good.
Peace is the fruit of justice; the active pursuit of peace, through commitment to conflict resolution and understanding, is a Catholic value.
Values of a Jesuit University
The Society of Jesus has articulated in several specific and contemporary documents its understanding of how the apostolic activity of its sponsored works is to be carried out. Chief among these are the Decrees of its more recent General Congregations, the Complementary Norms, and various publications on the Characteristics of Jesuit Education. The principles enunciated in these sources significantly enrich the educational endeavors of the university and include the following:
Each work of the Society is dedicated to the service of faith, of which the promotion of justice is an absolute requirement. The service of faith involves the evangelizing mission of the Church: the bringing and discovery of Christ's message to a broken and beautiful world. The promotion of justice recognizes the imperative to confront injustice in society and to extend care to the ignored, abandoned, and marginalized.
Dedication to human dignity from a Catholic/Jesuit faith perspective. Human dignity here appreciates not only religious tradition, but respect for human and environmental diversity. Further, this translates into a focused care for students: a way of teaching and relating that underscores the value of community and the never-ending pursuit of an integrated life.
A dedication to creating opportunities for students and community members to grow in their faith, which for Christians includes an experience of Jesus Christ in an atmosphere that supports them, while respecting religious difference and promoting interreligious dialogue. The experience of living in community furthers their sense of the religious importance of abiding relationships with others.
A public and consistent demonstration, throughout the institution, of the university's fulfilling its higher educational mission within the Catholic Church. The university is clearly understood to be not only a source and sponsor of intellectual endeavor, but a community actively engaged in the promotion of faith and faith-filled opportunities, as well as active efforts to participate in and support the local Church.
That educational excellence, which is a hallmark of the Jesuit intellectual tradition, is steadfastly protected and supported as a pre-eminent goal of the university in service of the primary role within the Church: the search for truth. In the spirit of St. Ignatius, intellectual endeavor is characterized by reverence for the mystery of God's creation.
That the promotion of justice permeates the university, not only in its academic curricula, faculty and staff, but in the ways it relates with its myriad constituents across all activities: students, student support, and student conduct; parents; alumni; the local and regional civic and religious community; benefactors; vendors and partners.
That the university through its educational work demonstrates an appreciation for international and global interconnectedness, and the value associated with relating each student's educational experience to the contemporary issues of a global reality.
That the university fosters an appreciation for the cultural, ethnic, and religious diversity of its local communities and the wider world.
That the university fosters a care for creation recognizing the rights and responsibilities of all to promote a sustainable use of the goods of creation, recognizing the importance of biodiversity and the rights of future generations.
That Board Members, administrators, faculty and staff have opportunities to experience the Spiritual Exercises, access to annual retreats, spiritual direction and support.
Values of a Humanistic University
The term "humanistic" is understood to include the quest for self-knowledge and the formation of a virtuous character. We impart to our students a critical understanding and appreciation of our common human nature, the moral heritage of their culture and society, as well as some exposure and education in cultures and societies different from our own. We also impart to students a similarly critically informed understanding and appreciation for their own religious traditions and an exposure and education to other religious traditions prevalent in our global community. Humanistic in its original meaning, "of the humanities," is meant beyond academics to include the development of the whole person, helping students to integrate their lives into a harmonious whole and learning to prize and respect the flourishing of others, however different from themselves. This latter sense links "humanistic" to both "Catholic" and "Jesuit," which have a concern for the faith that promotes not only individual, but social, justice. The humanism that has characterized Jesuit education over the centuries would espouse most or all of the foregoing Catholic and Jesuit values.

Gonzaga University's Baccalaureate learning goals offer an example of such humanism. Gonzaga seeks to graduate Baccalaureate students who possess and demonstrate the following:
Knowledge developed through the practices of liberal humanistic learning
Intellectual and practical skills, including:

Thinking: reasoning, finding and evaluating information, and interpreting and performing critical analysis
Communicating: exchanging information and ideas through effective use of listening, speaking, writing, and technological tools
Quantifying: understanding and using mathematical skills and reasoning
Problem Solving: individually and in collaboration with others
Specializing: competence in one or more disciplines
Integrating: connecting learning within and across disciplines and experiences
Imagining: creating new perspectives, finding one's own voice
Habits of mind and heart, including:

Reflection
Ethical reasoning and action
Civic, cultural and intercultural engagement
A commitment to a just society and world and the courage to act justly
A commitment to developing one's mind, body, and spirit
A thoughtful, evolving spirituality, including:

Discerning one's faith and vocation
Engaging with the personal challenges of formation and transformation
Becoming women and men with and for others.
One need not be a Jesuit or Catholic to espouse the great majority of these values. They are accessible from other faith-traditions and from philosophical, ethical reflection. All at Gonzaga share roles of leadership and responsibility in sustaining and integrating them into our campus culture.
Who Is Aloysius Gonzaga?
St. Aloysius Gonzaga One of the most frequently asked questions about Gonzaga University is the origin of the name. Who was St. Aloysius Gonzaga? He is an Italian Jesuit saint of the 16th century. In 1887 when Father Joseph Cataldo, an Italian born Jesuit, founded Gonzaga College in Spokane, Washington, it seemed fitting to name the new school after his fellow Jesuit and fellow Italian, St. Aloysius Gonzaga.
Aloysius is the Latin form of Gonzaga's given name, Luigi. In English, the equivalent form would be Louis. The Gonzaga name is well known in Italy. Aloysius Gonzaga was born at Castiglione near Mantua, Italy, in 1568 to a celebrated family of wealth and prestige. As the first born son of his father, Ferrante, and his mother, Marta, he was in line to inherit his father's title of Marquis. He grew up amid the violence and brutality of the Renaissance Italy and witnessed the murder of two of his brothers. In 1576, Aloysius' parents sent him to attend the court of the Grand Duke of Tuscany, Francesco de'Medici, in Florence. Later, accompanied by his parents, he traveled to Spain to join the court of Philip II in Madrid.
In Spain, Aloysius decided he wanted to join the newly founded religious order, The Society of Jesus. His father resisted his decision and there followed a struggle of wills that continued after his return to Castiglione in 1584. But Aloysius eventually prevailed. Renouncing his right to the title of Marquis and to the vast wealth he was destined to inherit, he entered the Society of Jesus in Rome on November 25, 1585. During his early studies in Rome, he would regularly go out into the streets of the city to care for victims of the plague. He himself contracted the disease as a result of his efforts for the suffering and died on June 21, 1591, at the age of twenty-three, six years short of his ordination as a Jesuit priest.
St Aloysius interior dome
Even before his time as a Jesuit, Aloysius was known for his love of prayer and fasting. He received his First Communion from St. Charles Borromeo. As a Jesuit at the Roman College, he continued to devote his time to prayer and practices of austerity. His spiritual director was Robert Bellarmine who later was canonized and declared a doctor of the church. When Robert was dying, he asked to be buried next to the grave of Aloysius. Today, they rest next to each other in the church of St. Ignatius Loyola in Rome. Pope Benedict XIII canonized Aloysius in 1726, and three years later declared him to be the patron of youth in the Catholic Church, an honor later confirmed by Pope Pius XI in 1926.

Adjacent to our university campus is a parish church, St. Aloysius. A statue of Aloysius stands outside the church, representing the saint carrying in his arms a victim of the plague. Two miles north of the university is a Jesuit secondary school also named in honor of the saint, Gonzaga Preparatory School. Gonzaga University in Spokane is the only Jesuit university in the world named after St. Aloysius.
Ignatian Pedagogy
The Association of Jesuit Colleges and Universities explains Ignatian Pedagogy as follows:

Since the time they launched their first school in 1548, the Jesuits have believed that a high quality education is the best path to meaningful lives of leadership and service. They have understood that the liberal arts, the natural and social sciences, and the performing arts, joined with all the other branches of knowledge, were a powerful means to develop leaders with the potential for influencing and transforming society. Committed from the very beginning to educating the whole person, the Jesuits adapted the best educational models available while developing their own pedagogical methods to become the "schoolmasters of Europe."

Jesuit education has been historically successful in many cultures because it is eminently adaptable to the environment of the learner. Jesuit education is adaptable to many diverse learners--traditional age and adult, full-time and part-time, on-campus and online. Present and future learners can expect Jesuit education to continue to adapt in appropriate ways to meet their evolving needs.

Some characteristics of a Jesuit education:
Jesuit education is a call to human excellence, to the fullest possible development of all human qualities. It is a call to critical thinking and disciplined studies, a call to develop the whole person, head and heart, intellect and feelings.
Jesuit education systematically incorporates methods from a variety of sources which better contribute to the intellectual, social, moral, and religious formation of the whole person. In the underlying principle of Tantum Quantum, that which may work better is adopted and assessed while that which is proven ineffective is discarded.
Jesuit education presents academic subjects out of a human "centredness", with stress on uncovering and exploring the patterns, relationships, facts, questions, insights, conclusions, problems, solutions, and implications which a particular discipline brings to light about what it means to be a human being.
Jesuit education strives to give learners ongoing development of their imagination, feelings, conscience and intellect, and to encourage and help them recognize new experiences as opportunities to further growth. Learners see service to others as more self-fulfilling than personal success or prosperity.
Jesuit education moves the learning experience beyond rote knowledge to the development of the more complex learning skills of understanding, application, analysis, synthesis, and evaluation. Learners write and speak about subject matter with stylistic excellence - Eloquentia Perfecta - and engage in public debate.
The Ignatian Pedagogical Model
The Ratio Studiorum of 1599 provided a coherent statement of operating methods and objectives for the hundreds of Jesuit colleges in Europe, Asia and the Americas that constituted a vast and growing education operation. While such a universal curriculum is impossible today, a systematically organized pedagogy whose substance and methods promote the explicit vision of the contemporary Jesuit educational mission is consistent with the Jesuit tradition. The Jesuit tradition of Ignatian Pedagogy is a process by which teachers accompany learners in the lifelong pursuit of competence, conscience, and compassionate commitment. Such an Ignatian pedagogical paradigm can help teachers and learners to focus their work in a manner that is academically sound and at the same time formative of persons for others.

In order to translate the Jesuit educational characteristics into action, the International Commission on the Apostolate of Jesuit Education (ICAJE) issued Ignatian Pedagogy: A Practical Approach in 1993 as a model that speaks to the Jesuit teaching-learning process, that addresses the teacher-learner relationship, and that has practical meaning and application for the classroom.

Ignatian Pedagogy embodies five key teaching elements--Context, Experience, Reflection, Action, and Evaluation.
Context - What needs to be known about learners (their environment, background, community, and potential) to teach them well?
Cura Personalis - personal care and concern for the individual--is a hallmark of Jesuit education, and requires that teachers become as conversant as possible with the context or life experience of the learner. Since human experience, always the starting point in a Jesuit education, never occurs in a vacuum, educators must know as much as possible about the actual context within which teaching and learning take place. Teachers need to understand the world of the learner, including the ways in which family, friends, peers, and the larger society impact that world and effect the learner for better or worse.
Experience - What is the best way to engage learners as whole persons in the teaching and learning process?
Teachers must create the conditions whereby learners gather and recollect the material of their own experience in order to distill what they understand already in terms of facts, feelings, values, insights and intuitions they bring to the subject matter at hand. Teachers later guide the learners in assimilating new information and further experience so that their knowledge will grow in completeness and truth.
Reflection - How may learners become more reflective so they more deeply understand what they have learned?
Teachers lay the foundations for learning how to learn by engaging students in skills and techniques of reflection. Here memory, understanding, imagination, and feelings are used to grasp the essential meaning and value of what is being studied, to discover its relationship to other facets of human knowledge and activity, and to appreciate its implications in the continuing search for truth.
Action - How do we compel learners to move beyond knowledge to action?
Teachers provide opportunities that will challenge the imagination and exercise the will of the learners to choose the best possible course of action from what they have learned. What they do as a result under the teacher's direction, while it may not immediately transform the world into a global community of justice, peace and love, should at least be an educational step towards that goal even if it merely leads to new experiences, further reflections and consequent actions within the subject area under consideration.
Evaluation - How do we assess learners growth in mind, heart, and spirit?
Daily quizzes, weekly or monthly tests and semester examinations are familiar instruments to assess the degree of mastery of knowledge and skills achieved. Ignatian pedagogy, however, aims at evaluation which includes but goes beyond academic mastery to the learners well-rounded growth as persons for others. Observant teachers will perceive indications of growth or lack of growth in class discussions and students' generosity in response to common needs much more frequently.
The Benefits of Ignatian Pedagogy
Ignatian Pedagogy promises to help teachers be better teachers. It enables teachers to enrich the content and structure of what they are teaching. It gives teachers additional means of encouraging learner initiative. It allows teachers to expect more of students, to call upon them to take greater responsibility for and be more active in their own learning. It helps teachers to motivate learners by providing the occasion and rationale for them to relate what is being studied to their own world experiences.
Ignatian Pedagogy personalizes learning. It asks learners to reflect upon the meaning and significance of what they are studying. It attempts to motivate students by involving them as critical active participants in the teaching-learning process. It aims for more personal learning by bringing student and teacher experiences closer together. It invites integration of learning experiences in the classroom with those of home, workplace, community, and ever-present human need.
Ignatian Pedagogy stresses the social dimension of both learning and teaching. It encourages close cooperation and mutual sharing of experiences and reflective dialogue among learners. It relates student learning and growth to personal interaction and human relationships.
Guided by the Ignatian pedagogical model, Jesuit colleges and universities are places of intellectual integrity, critical inquiry, and mutual respect, where open dialogue characterizes an environment of teaching, research and professional development. The Jesuit ideal of giving serious attention to the profound questions about the meaning of life encourages an openness of mind and heart, and seeks to establish campus communities which support the intellectual growth of all of its members while providing them with opportunities for spiritual growth and development and a lifelong commitment to social justice.