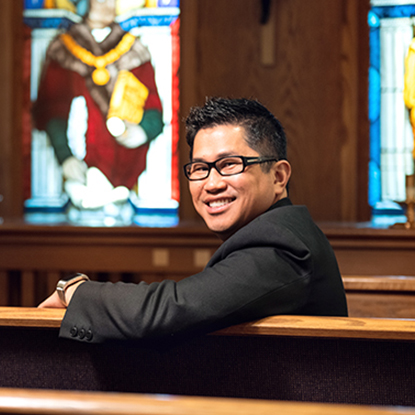 Areas of work: Law School Chaplain, Assistant Professor of Law
Fr. Bryan Pham is the Chaplain to the Law School and is an Assistant Professor of Law. He teaches Legal Methods and Jurisprudence, and he is the Supervising Attorney for the Indian Law/General Public Practice Clinic.
Ordained in 2004, Fr. Pham is a Jesuit priest of the USA-West Province of the Society of Jesus. He did his undergraduate studies at Gonzaga University. He received an S.T.B. from Regis College, and an M.Div. from the University of Toronto. He also received a J.D. from Seattle University School of Law, a J.C.L. from the Pontifical Gregorian University, a J.C.D. from Université Saint Paul, and a Ph.D. from the University of Ottawa.
An active member of the Washington State Bar Association and the Canon Law Society of America, Fr. Pham also serves on the Board of Trustees of Gonzaga University, the Board of Directors of Gonzaga Preparatory, a Judge and a Defender of the Bond with the Metropolitan Marriage Tribunal in the Catholic Archdiocese of Los Angeles, and he represents the Jesuits on the Jesuit Committee for Investment Responsibility.