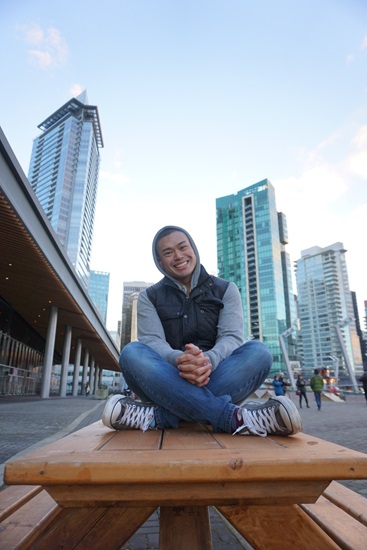 Areas of work: Liturgical celebrations, music ministry, campus worship
"Unforgettable." ★★★★★ - The New York Times
"Don't let his introverted-ness fool you." ★★★★★ - The Washington Post
"Puts the "mean" in "meaningful." ★★★★☆ - Christian Science Monitor
"Not as interesting as Forrest Gump, but he tries." ★★★★☆ - The Chicago Tribune
"Does not need FaceTune or Autotune" ★★★★★ - San Diego Reader
WHO
Daniel Raymond
Senior Coordinator of Liturgical Life
Cradle and Fully-Sacramentally-Initiated Roman Catholic
Filipino-American
Navy Officer's & Nurse's Son
WHAT
Movies: Comedy, RomComs, Feel-Good & Political. Forrest Gump is my favorite of all time. I stay away from horror and scary movies because I like sleep!
Music: Music Major in college so I like everything pretty much; minus country (sorry!) I do enjoy Jack Johnson, Sheppard, Jason Mraz, Ben Rector, John Splithoff and John Mayer, Adele, Whitney Houston, Lizzo and my queen & guilty pleasure is CELINE DION
Travel: Studied abroad in Paris, France in college. Did a Summer Opera program in Rome, Italy and have traveled to 5/7 Continents and plan on doing 7/7 by the time I'm 40.
Television: The West Wing & Will & Grace are on constant cycles. Love anything funny and political satire.
Sports: SF 49ers, SF Giants, GS Warriors/Portland Blazers and the Portland Timbers.
Hobbies: Long Walks on the Beach (no…really, I do), Netflix & Chill = Passing out on the couch, working out (free weights, running & Pilates are some of my favorites), amateur foodie, community service (especially work for the economically disadvantaged), cleaning (no joke) and unplugging myself from the digital world.
WHEN Sundays -Thursdays
WHERE
Born in Oakland, CA
Raised in San Jose, CA
Lived in Los Angeles, CA
Lived in Independence, OR
Lived in Portland, OR
Lives in Spokane, WA
Loyola Marymount University - Bachelor of Arts in Music (Theology minor)
Western Oregon University -Master of Music in Choral Conducting
Gonzaga University - Master of Arts in Theology & Leadership
Southern Methodist University- Doctor of Pastoral Music (in progress)
WHY
I consider it an honor and a blessing beyond all measure to be here working with the Gonzaga Community. I absolutely love what I do in Liturgical and Music Ministry! I love being a witness to what these special ministries can do to transform the spiritual lives of people. Would love to share everything I know and would love to pick your brain so I may be inspired as well.