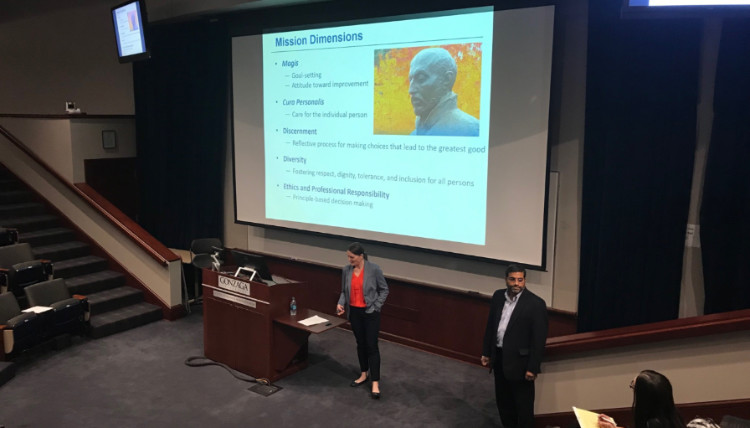 The Division of Mission and Ministry is happy to sponsor a new program for faculty. The Faculty Scholars for Mission program's purpose is to provide support for faculty academic projects related to mission and to provide a forum for those projects to be shared with the Gonzaga community. The program will provide an opportunity for Gonzaga to further and foster a creative academic community related to the university mission.
Mission related academic projects supported will further the faculty member's own formation in the mission and contribute to the formation of community members as well. This will enrich the understanding of the mission in our community.
Outcomes/Expectations:
An academic project (research or creative inquiry) that intentionally enhances mission efforts of an academic or intellectual kind at Gonzaga and that would have relevance for other Jesuit institutions
An end-of-project presentation or event open to the Gonzaga community that shares the project and what has been learned about mission from it
A written report or presentation that can be archived and possibly used in future mission education events
Calls for Proposals will be made to the faculty via the Morning Mail once a year.
Please contact Dr. Ellen M. Maccarone, Faculty Advisor to the President at 509-313-6136 or maccarone@gonzaga.edu for more information.
Mission Scholars Recipients
Below you will find all those who have conducted research as part of the Mission Scholars Program and their research topic.
Dan Bradley, Ph.D. - Philosophy - "Imagination, the Goodness of Nature, and the Demands of Justice: Contributions of the Ignatian Charism to Contemporary Thought"
Karen Colafari, PhD, MBA, RN - Nursing - "Data for Good"
Pat Ferro, Ph.D, P.E. - Engineering - "Aluminum Jesus Research Investigations"
Dung Tran, Ph.D. - Leadership Studies - "Transforming Servant-Leaders from Within: Insights from the Imprisonment Experiences of Cardinal Francis Xavier Nguyen Van Thuan"
Lisa Silvestri, Ph.D. - Communication Studies - "Peace-by-Peace"
John Traynor, Ph.D. - Teacher Education - "Engaged Scholarship: A framework for powerful connections between academic, intellectual and mission work of the university"