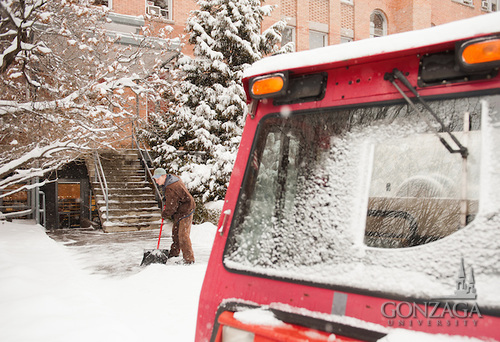 Welcome to the Gonzaga Winter Weather Emergency Preparedness page. This page contains general information about severe winter weather. Employees and students should visit the MyGU Winter Weather Preparedness site for more detailed information. If you have questions not addressed on this page, please contact us using the information at the bottom of the page.
There are many ways to stay informed about winter weather impacts on campus. Familiarize yourself with them now, so they are easily accessible to you during an emergency. Click on University Operations, below, to learn more about different ways weather impacts the Campus.
ZagAlert Messages
The University sends ZagAlert messages on text, telephone, and email to alert the campus of significant weather impacts that affect campus operations. Visit the ZagAlert page for more information.
Emergency Information Website
The Emergency Information Website contains current information about the operational status of the main Campus, and any affected operations or events. Bookmark the Emergency Information Website for easy access. You can also find the link at the bottom of all gonzaga.edu pages.
Social Media
Gonzaga University posts updates about campus conditions on Facebook and Twitter. Follow us on Twitter @gonzagau and on the Gonzaga University Facebook.
Emergency Information Telephone Line
Campus conditions and operational impacts are posted on the emergency information recorded line at 509-313-5666.
Local Media Outlets
Gonzaga University distributes delays and closures to local media outlets to include in news updates.
National Weather Service
Don't wait for Gonzaga communications to learn about weather impacts and forecasts. Visit the Spokane National Weather Service website for forecast information and safety tips.
These tips can help you stay safe during winter weather:
Keep your head up and your hands free when walking on snowy, icy, or wet surfaces
Wear sturdy, waterproof boots with good traction
Keep a wind-resistant coat or jacket, hats, scarf, and gloves or mittens available to wear when moving around outside
Minimize travel outdoors during active winter weather storms
Follow Plant guidance regarding heating and building temperatures
Know the signs of cold stress, frostbite, hypothermia, exhaustion, or heart attacks and watch for them in yourself and in others when you're working or playing outside
Make sure you have a personal emergency kit and an emergency kit and in your car that is specific to winter weather risks
Check on one another and those who are particularly vulnerable to the impacts of winter weather such as the elderly, the very young, or those with functional and access needs
Make a plan to keep pets inside during winter weather
The following resources were used in building this page, and may provide additional helpful information to you!