Members contribute to a greater sense of belonging to the Gonzaga community and bring their authentic selves to work and the educational environment.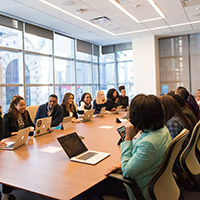 The Office for Diversity, Equity, and Inclusion (ODEI) manages and/or supports several faculty and staff-led, and -facilitated affinity groups of the university community formed around interests, backgrounds, identities, and common bonds. We actively contribute to GU's mission, values, and efforts specific to diversity, equity, inclusion, and campus engagement.
Our faculty and staff affinity groups contribute to a sense of belonging.
Contribute to an inclusive workplace by helping to attract and retain diverse candidates.
Provide an informal welcome to new employees and networking and mentoring opportunities for their members.
Create an open and welcoming space for faculty and staff who share common interests/concerns to meet and support one another.
Provide a resource to GU leadership and ODEI regarding employee interests, needs, and policies.
Serve as a vehicle for leveraging the unique and shared perspectives, functions, and approaches to work that exist throughout the University community.