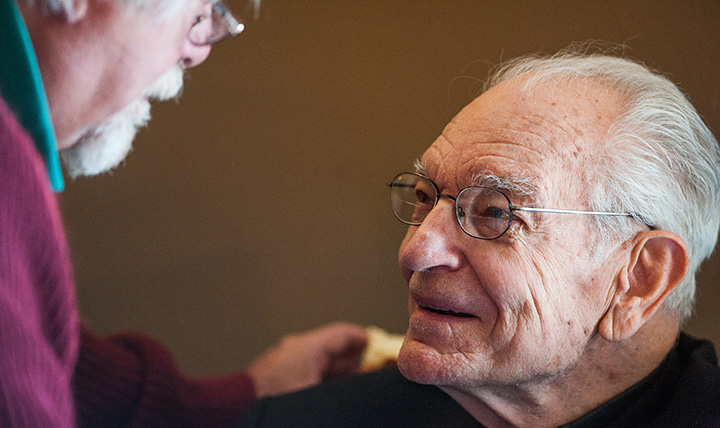 The Ministry Institute started in 1981, when Father Armand Nigro, SJ, Father Vince Buezer, SJ, and Father Jack Evoy, SJ, anticipating a shortage of priests, found men who had been widowed and in other careers, but were interested in serving as Catholic priests. Conventional seminary training was not appropriate, so they established the Ministry Institute as a seminary to train second-vocation men for the priesthood.

In the mid-1990s it ceased to be a seminary. In the late 1990s, plans began to use the building for lay and ordained Catholics, and for non-Catholics in the Religious Studies graduate program, which gained accreditation of the Association of Theological Schools several years ago. Now non-Catholics can transfer credit for their work to seminaries in their denominations.

In the 1990s, the former CREDO and FOCUS programs, which brought priests and nuns from around the world for sabbatical studies, became the Ministry Institute's sabbatical program.

Currently, the Ministry Institute brings men and women together from a variety of locations and backgrounds. Some are discerning a call to priesthood, diaconate, and religious life or preparing to enter a seminary. Others are preparing for lay ministry in the Church. Some are professional ministers, ordained and lay, who are taking a break from active ministry to develop their skills for more effective ministry. All share a common commitment and use the resources of Gonzaga University and the Spokane community for personal enrichment, academic education and pastoral training. For all of these, the Ministry Institute provides a setting where small community living is a supportive environment for personal growth, broadening of intellectual horizons, deepening of spirituality, and honing of ministerial skills. The Ministry Institute's programs are semester based.
To learn more about the Ministry Institute please contact Shonna Bartlett at (509) 313-5765 or bartletts@gonzaga.edu