Our Bulldog Buck vendors adhere to all current COVID regulations and provide our Gonzaga Community with a safe place to spend their Bulldog Bucks. We realize that things are changing frequently so we have compiled all the information we have received from our Bulldog Buck vendors.
Please give your BDB vendors a big thanks when ordering!
They appreciate all your support during these unusual times.
We will get through this together!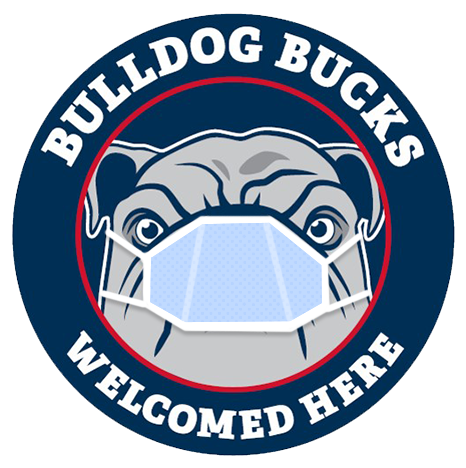 Updated December 30th 2020. Locations listed in alphabetical order.
Aloha Island Grill
We will be open as usual for take out orders. Hours will be the same.
Arctos Coffee
We will remain open for take out with the same hours offering our full menu.
Carusos
We will be open for take-out for our regular hours currently. Students that want to order can call their orders in or come in to order take out and can swipe their Bulldog Bucks in the store to pay.
Clarks Fork
We are open! Customers will be able to call in orders or come in and order just like normal, just can't stay to eat! Hours will be the same 8-2 on weekdays and 8-3 on weekends. Please continue to support us!
Domino's on Hamilton
We will remain open at our usual hours for pick up or delivery only. We offer curbside delivery for customers who wish to stay in their cars. For Bulldog Bucks, it is best to place the order over the phone and to tell the customer service representative on the phone they are using Bulldog Bucks. Students need to be aware that we are completely contactless on delivery, for any dorm or shared apartment style living they should have a specific place they'd like the driver to place their food.
Dinardi's
We will remain open for carry out and deliver through our third party services. Bulldog Bucks may be used over the phone but ZAGCARD cardholders will need to be prepared to show their card upon pick up or delivery to verify photo. We also would greatly appreciate if all orders were placed on the phone or through one of our ordering systems for example Slice which can easily be found on our website or just by googling DiNardis Pizza&Pasta. Thanks a million to the entire GU community!
FroyoEarth
All of our locations will be open for carry out/to-go, delivery, and curbside. Customers can still create their own frozen yogurt, we will scoop the toppings for them! Our hours will remain the same and you are welcome to come in to place your order to do curbside. Our hours and flavors will be up to date on our website. Everything is the same with the exception of no dining in!
Hello Sugar
We are open. All orders will be to go, our dining in will be closed. All locations will be open for take-out 7-4 daily. Follow us on social media to gain the most up to date info. Purchasing merchandise is a great way to support us!
Jimmy Johns
Take out, delivery, and drive through are all available. No in store dining for the foreseeable future. We are currently closing at 8 pm. We will extend hours back to normal after COVID is past us. Best way to reach us is by phone. Online is an option but you must give the card number when picking up. We appreciate the orders right now more than ever.
McDonalds
We are OPEN. Drive Thru and Walk up Available. McDelivery - Door Dash, UberEATS and PostMates available during restaurant operating hours. Bulldog bucks can be used in Drive Thru and Walk up orders.

6 am to Midnight Sunday through Thursday.
6 am to 2 am Friday and Saturday.

Closed on Thanksgiving and Christmas Day.
Method Juice
Our downtown location at 718 W. Riverside which accepts Bulldog Bucks and north location will remain open. We currently offer Door Dash and Uber Eats delivery as well. Our hours will be staying the same for the time being. Subject to change. The best way for cardholders to place an order using Bulldog Bucks is to call in and order ahead or order in the store. Please stay connected via social media for all updates. Facebook and Instagram. We are all in this together! Together we are stronger!
Next Door Coffee Lounge
We are temporarily closed and look forward to seeing you again when we reopen!
Osprey
We will be open and doing take out and have food options available. Hour of operations will be from 11am to 7pm. There will be patio seating available under the heaters outside. Students can also use their Bulldog Bucks at the BBQ and food truck. If the students are going to use bulldog bucks they can either tell the server at the time of ordering or let them know when they are picking up the food.
Papa Johns
You can still call the store to place your order. Let them know you are paying with Bulldog Bucks.
Perkins
We will be closing temporarily due to the Governors restrictions. We look forward to see you all when we reopen..
Pita Pit
Business as usual for us except no inside seating. Can still come in to order and take to go, or order ahead for pickup and delivery via pitapitusa.com or our mobile app. To pay with Bulldog Bucks, order online for a cash pickup and pay in store. Thanks!
Starbucks
We will be going back to a grab and go model. Cardholders can walk in, order, and take their items to go or they can use the drive thru. We can accept bulldog bucks in both channels.

Follow us on Instagram @rubyandsharpstarbucks for any changes to our hours or our operating model.

Don't forget to take advantage of our rewards program! Download the Starbucks app. We have a scan only Starbucks card to collect rewards that will allow you to still use your Bulldog Bucks while collecting rewards!
Sweeto Burrito
We will be staying open for take out and drive thru services. Our hours will remain the same. Before placing your order just let the cashier know you want to use Bulldog Bucks and they will get you all taken care of.
Thomas Hammer
We will closing Tuesday 11/24 for the semester.
Ultimate Bagel
We will be open normal hours:
Monday – Friday: 7:00-2:00
Saturday: 8:00-2:00
Sunday: 8:30-2:00
The newest restrictions make it so all orders must be take out. Call ahead orders are always welcome: (509) 487-4630.