Here you can learn more about our administration. If you have questions, we invite you to contact us using the form at the bottom of the page.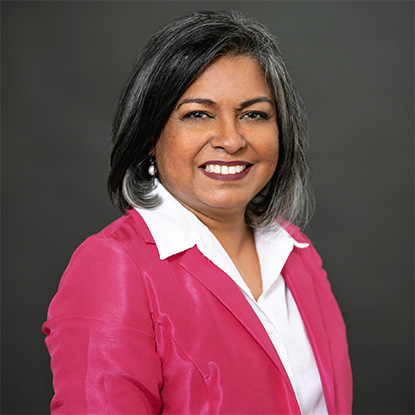 Email:
sherazi@gonzaga.edu
Phone: 509-313-5873
Office: College Hall Room 113
Naghmana was appointed to serve as the Office and Communications Coordinator with the newly established Office of Diversity, Equity and Inclusion (DEI). She will be a strategically valuable member of the university's central diversity office offering programmatic, technical and administrative assistance to inclusion and equity initiatives and activities across the university including the University Council on Equity, Inclusion and Intercultural Awareness. Naghmana brings a wealth of personal and professional experience to our university's mission commitments to develop intercultural fluency that animates, deepens and expands the educational value of human difference.
Naghmana Sherazi is an immigrant, born and raised in Karachi, Pakistan; a single mother, a scientist, and an educator, she has made a home in Spokane for the last seven years. She holds a Master of Arts degree in English from Karachi University, as well as a Bachelor of Arts degree in Political Science (Karachi University). She moved to Houston, TX in 2008, and completed an Associate of Art degree in Bio-Technology (San Jacinto Community College), and a Bachelor of Science degree in Cytogenetic Technology (UT MD Anderson Cancer Center School of Health Professions) before moving to Spokane in 2012. In Houston, she worked as an Adjunct Instructor at San Jacinto Community College in their College Prep. Department, teaching Developmental Reading, Writing, Communications, and Composition courses. Since her arrival in Spokane she has worked in several health and medical science related positions with a Genetic testing company and an Opioid Treatment Program with the Spokane Regional Health District. More recently and prior to coming to Gonzaga, Naghmana served as Clinical Research Lab manager at the Sleep and Performance Research Center with Washington State University (WSU) Elson S. Floyd College of Medicine.
Since moving to Spokane, Naghmana has been actively engaged in social justice issues. For example, she is passionately vocal about bringing awareness to issues revolving around gender identity/equity, racism, misogyny, xenophobia, anti-Semitism, and Islamophobia. Her community service includes serving on the governing boards of Peace & Justice Action League of Spokane, Refugee Connections, Spokane Women Together, Asian Pacific Islander Coalition - Spokane, and Muslims for Community Action and Support. Her community activism also extends to serving as a columnist for SpokaneFāVS – an online faith based publication. She is also a member of various local groups in the community, such as Faith Leaders and Leaders of Conscience, Sisterhood of Salaam Shalom, Spokane Coalition of Color, Hispanic Business & Professional Association, NAACP, ACLU, and works with impacted indigenous and minority communities in conjunction with the Center for Justice and FUSE of WA. Before moving to the USA, Naghmana worked with the Karachi American School (Department of State, DC) for seven years and with British Airways, UK for 14 years. As a young adult she worked as a cultural and classical artiste with the Pakistan Tourism Development Corporation, gaining appreciation of classical and regional/folk dances, music, and classical singing of the Indo-Pak subcontinent. Having lived and worked on three continents, Naghmana has a unique perspective on life, work, society, and ethics, and she draws upon her experience and knowledge of various cultures, religions, and ethnicities when she navigates everyday life.