Exhibitions 2007-2008
IN THE ARCADE GALLERY
MARCH 28 - JULY 31, 2008
PAM INGALLS: AH LIFE!
An exhibition of paintings by GU alumna and Vashon Island, WA artist Pam Ingalls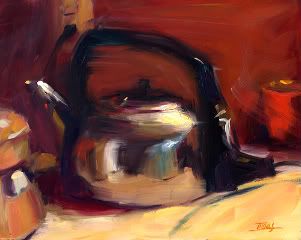 IN THE JUNDT GALLERIES
APRIL 18, 2008 - MAY 10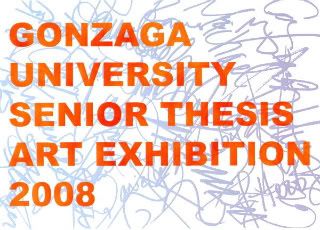 IN THE JUNDT GALLERIES
JANUARY 23, 2008 - APRIL 2
FACE TO FACE
An exhibition featuring over one hundred and seventy-five prints drawn from the permanent collection
and private collections focusing on the face as the primary imagery.
This ambitious arrangement of works from the 16th through the 21st century was hung salon style in the Jundt Galleries.
This exhibition was in honor and memory of Dr. Anne Baruch, Chicago, IL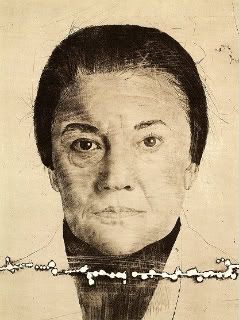 Jiri Anderle(Czech, b. 1936)
Portrait of Anne B.,(detail) 1980
Intaglio print: mixed techniques. 24.5 x 19.62
Collection of Gonzaga University
IN THE ARCADE GALLERY
NOVEMBER 30, 2007 - MARCH 8, 2008
FOOD FOR THOUGHT
The exhibition was held in conjunction with GU's university-wide discussion on food, eating, and agriculture.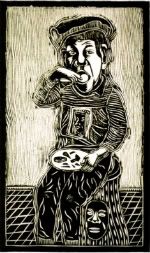 H. Andrew van Wyk (Namibian, b. 1963)
Eating Something, 1983. 19.5 x 11.7"
Relief print: hardboard
Collection of Gonzaga University
Gift of Patti Hayes
IN THE JUNDT GALLERIES
OCTOBER 19 - DECEMBER 12, 2007
HARRIET SANDERSON: LIMBUS
Harriet Sanderson is an award-winning artist who contracted polio at the age of three, leaving her with an incapacitated right arm and the general weakness of post-polio syndrome. More recently she was diagnosed with fibromyalgia. Recurrent themes in her work are self-image, intimate relationships, and physical function. Employing non-art materials and unusual printmaking techniques, the Seattle feminist explores the body's affect on physical and psychological existence. Ms. Sanderson holds a BFA and an MFA in printmaking from the University of Washington. Her work has been shown in more than sixty museums and galleries and is held in a number of private and public collections.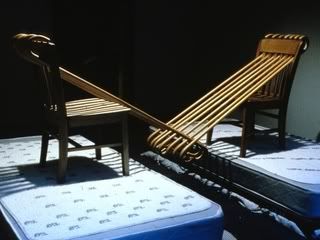 IN THE ARCADE GALLERY
AUGUST 15 - NOVEMBER 17, 2007
ROBERT SPERRY
Sponsored by Quarry Tile Company, Spokane, Washington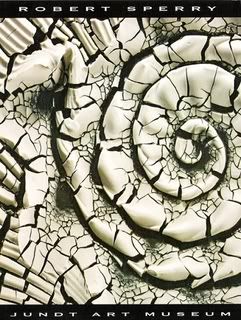 >
Image: Robert Sperry (American, 1927-1998)
Untitled, (detail)
Ceramic plate: stoneware clay, glaze & slip
Collection of Jim Kolva & Pat Sullivan, Spokane, WA
IN THE JUNDT GALLERIES
AUGUST 31 - OCTOBER 6, 2007
DRAWN TO THE WALL III
An invitational exhibition featuring the drawing installations of Michelle Forsyth, Gina Freuen, Kevin Haas, Richard Schindler, and Ken Yuhasz