Jundt Art Museum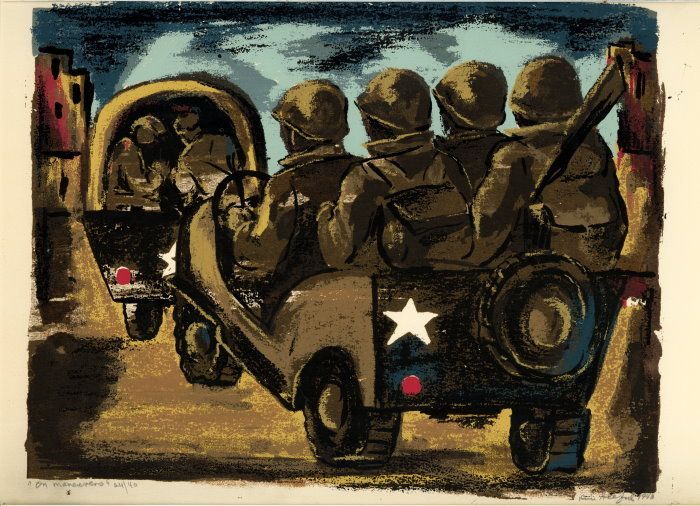 Riva Helfond (American, 1910-2002)
On Maneuvers, 1943
Screenprint: tusche and glue on paper. 12 x 15 inches.
Jundt Art Museum;Gonzaga University
University purchase with funds provided by the Fredrick & Genevieve Schlatter Endowed Print Fund
1995.13
Riva Helfond was born in Brooklyn, New York, to a Jewish family. She spent some of her childhood in Russia and returned to New York at the age of eleven, living in New York or New Jersey for most of the rest of her life. Between 1928 and 1940, she studied at the School of Industrial Art and the Art Students League; her teachers included William von Schlegell, Yasuo Kuniyoshi, and Morris Kantor for painting and Harry Sternberg for printmaking. Among her fellow students were Alexander Brook and her future husband, the sculptor William Barrett.
Helfond's work has been exhibited at the Corcoran Gallery of Art, Washington, D.C. (1960), the Newark Museum of Fine Arts (1964, 1967), and elsewhere. It is represented in the permanent collections of the Metropolitan Museum of Art, the Los Angeles County Museum of Art, the Museum of Modern Art (New York), the Brooklyn Museum, the Boston Museum of Fine Art, the Springfield Museum of Fine Art, the Newark Museum of Fine Art, and the Library of Congress, among other institutions. In 2009, her work was featured in the exhibition "Industrial Strength: Precisionism and New Jersey" at the Jersey City Museum.
http://en.wikipedia.org/wiki/Riva_Helfond
Memorial Day is a federal holiday in the United States for remembering the people who died while serving in the country's armed forces. The holiday, which is observed every year on the last Monday of May, was formerly known as Decoration Day and originated after the American Civil War to commemorate the Union and Confederate soldiers who died in the war. By the 20th century, Memorial Day had been extended to honor all Americans who died while in the military service.
| | | | | |
| --- | --- | --- | --- | --- |
| Follow the Jundt Art Museum: | | | | |