Jundt Art Museum
The Jundt Art Museum will be CLOSED
the 3rd & 4th of July in celebration of Independence Day.
We wish everyone a happy and safe holiday weekend!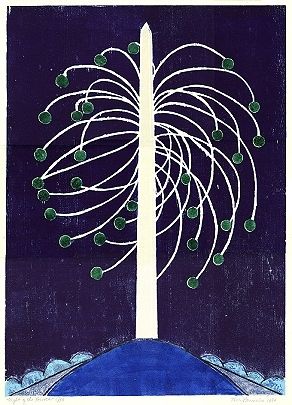 Terry Parmelee (American, b. 1929)
Night of the Fourth, 1984
Woodcut. 30.31 x 22 inches
Jundt Art Museum; Gonzaga University
Gift of Milton and Ingrid Rose
1998.15.1
Terry Parmelee, painter and woodcut printmaker is part of a tradition of artists living in the Washington DC area who pioneered the use of pure color as an expressive art medium. They are referred to as the Washington Color School. Earliest Washington Color School artists from the 1950s are Morris Louis, Ken Noland, and Howard Mehring, followed by Gene Davis, Sam Gilliam and others.
Parmelee's printmaking influences were her first teacher, renowned Japanese woodcut artist, Un'Ichi Hiratsuka, and American woodcut virtuoso, Carol Summers, with whom she studied in 1966 in Paris. Her successful woodcut prints of the 1970s explored color expressed in significant shapes as she rejected both the amorphous, free-flowing poured-paint forms of some Color School artists in favor of rounded well-defined shapes.
Parmelee, as part of her ongoing research into the interaction of color makes extensive use of significant shapes. These often take the form of symbols, which are not only geometric ones such as the triangle, parallelogram, circle, oval and square, but include familiar ones like spades, hearts, and some of her own devising. The interplay of the shapes, the space surrounding them, and their colors creates a lively arena on the canvas.
http://www.terryparmelee.com/home.html
| | | | | |
| --- | --- | --- | --- | --- |
| Follow the Jundt Art Museum: | | | | |