Exhibits 2008-2009
IN THE ARCADE GALLERY
MARCH 20 - JULY 31, 2009
JACOB LAWRENCE: GENESIS
An exhibition featuring the print series Eight Studies for the Book of Genesis.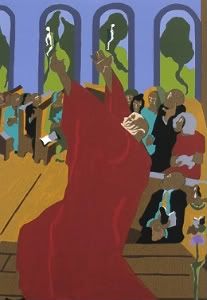 Image information:
Jacob Lawrence (American, 1917-2000)
No. 7. "And God created man and woman." (detail), 1970.
screenprint, lithography and chine colle.
The Kennedy Collection of Northwest Art:
Gift of Duff & Dorothy Kennedy
IN THE JUNDT GALLERIES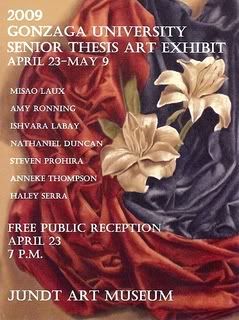 IN THE JUNDT GALLERIES
JANUARY 23 - APRIL 4, 2009
VIOLENCE!
An exhibition featuring prints, drawings, ceramics, and sculptures that capture the artist's response to forms of societal violence, including war, terrorism, torture, execution, slavery, religious persecution, racial bigotry, censorship, and isolation.
"Lines of pain cut the world. Violence begins as an electrical impulse: neurons fire, fibers twitch. Even in its most refined forms, violence springs from an instinctual core shut to direct rational analysis. Art originates from the same primal energy uncorrupted by avarice, hate and fear. Violence! reminds us that 'eye sight is insight.'"
~from the essay by Tony Osborne, Professor, Communication Arts
Gonzaga University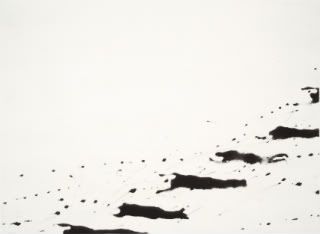 Image information:
Juan Genoves (Spanish, b. 1930)
Silencio, Silencio (detail), 1970. Etching. 13 x 17"
On loan from a private collection
IN THE ARCADE GALLERY
DECEMBER 1, 2008 - MARCH 6, 2009
THE PARIS REVIEW: PRINTS AND POSTERS
The Paris Review, a literary magazine with an online presence [ Paris Review ], noted the following about The Paris Review Print Series:
"In 1964 Drue Heinz made a gift to The Paris Review to enable the magazine to initiate a series of prints and posters by major contemporary artists, the purpose of which was to encourage works in the print medium while publicizing The Paris Review and providing financial support for the magazine. Largely through the efforts of Jane Wilson, a fellow artist and the director of the program, twenty-three artists – among them Andy Warhol, Robert Rauschenberg, Helen Frankenthaler, and Robert Motherwell – were persuaded to donate signed and limited editions of original work."
These lithographs and silk-screens, from Gonzaga University's permanent art collection, included works by Christo, Sol LeWitt, Richard Lindner, Carol Summers, and Terry Winters.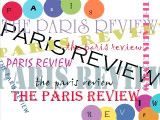 IN THE JUNDT GALLERIES
OCTOBER 24 - DECEMBER 13, 2008
GEOGRAPHY/GEOLOGY
An exhibition of new work by Gonzaga University Art Department Faculty Mary Farrell & Terry Gieber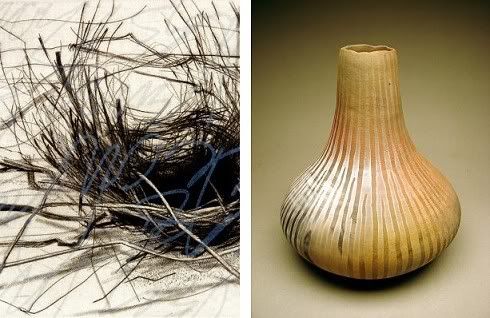 Image information (left to right):
Mary Farrell (Contemporary American)
Untitled (detail), 2008. Drypoint, lithograph. 5 x 7.5"
Collection of the artist

Terry Gieber (Contemporary American)
Devil's Tower Series Pot, 2008. Sagger-fired stoneware with slips and resist.
18 x 16 x 16"
Collection of the artist
IN THE ARCADE GALLERY
AUGUST 15 - NOVEMBER 15, 2008
SPOKANE COLLECTS: FRITZ SCHOLDER LITHOGRAPHS
An exhibition of selected lithographs from the private collection of John Morey Maurice
Sponsored by the Kalispel Tribe of Indians

Image information:
Fritz Scholder (American, 1937-2005)
Indian with Feather Fan, 1975. Lithograph, 30 x 22"
Collection of John Morey Maurice
Photo credit: J. Craig Sweat
IN THE JUNDT GALLERIES
SEPTEMBER 5 - OCTOBER 11, 2008
CONTEMPORARY CERAMICS: KOLVA/SULLIVAN COLLECTION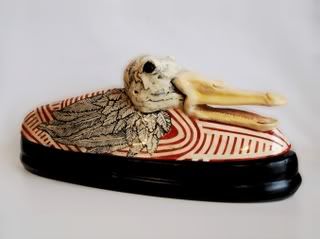 Image information:
Sierra Lehman (Contemporary American)
Goosehead Covered Server, 2001. Earthenware & China paint, 7 x 16 x 5"
Collection of Jim Kolva and Pat Sullivan