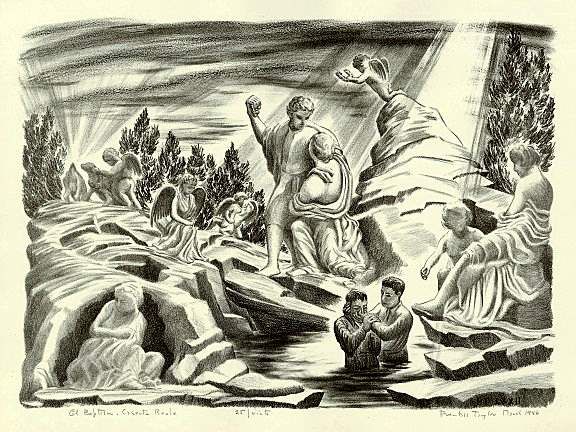 Prentiss Taylor (American, 1907-1991)
GI Baptism, Caserta Reale, 1946
Lithograph. 10 x 13.75 inches.
Jundt Art Museum, Gonzaga University;
Gift of Roderick S. Quiroz.
2000.30.8
The artist depicts American GIs, who were frequently baptized before leaving for battle. The Caserta Reale was the estate of the former King of Naples.
Memorial Day is a federal holiday in the United States for remembering the people who died while serving in the country's armed forces. The holiday, which is observed every year on the last Monday of May, was formerly known as Decoration Day and originated after the American Civil War to commemorate the Union and Confederate soldiers who died in the war. By the 20th century, Memorial Day had been extended to honor all Americans who died while in the military service.
HAVE A SAFE MEMORIAL DAY WEEKEND
The Jundt Art Museum will resume regular hours on May 31st
| | | | | |
| --- | --- | --- | --- | --- |
| Follow the Jundt Art Museum: | | | | |