THE JUNDT ART MUSEUM IS CLOSED NOVEMBER 25-29
WE WISH EVERYONE A HAPPY THANKSGIVING!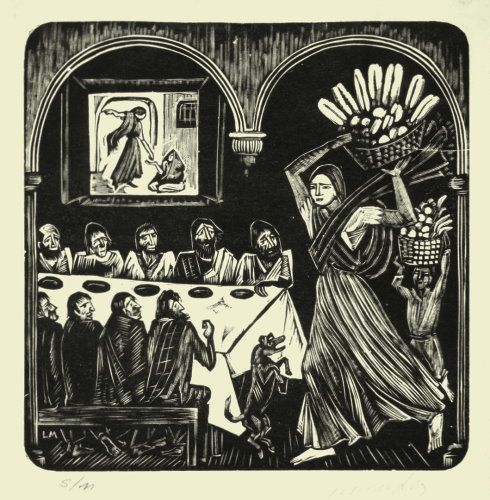 Leopoldo Mendez (Mexican, 1902-1969)
El Sueno de los Pobres [The Dream of the Poor]
Wood engraving. 4.88 x 4.81 inches.
Jundt Art Museum, Gonzaga University;
The Bolker Collection: Gift of Norman & Esther Bolker
1984.5.205
Leopoldo Méndez (June 30, 1902 – February 8, 1969) was one of Mexico's most important graphics artists and one of the country's most important artists from the 20th century. Méndez's work mostly focused on engraving for illustrations and other print work generally connected to his political and social activism. His most influential work was connected to organizations such as the Liga de Escritores y Artistas Revolucionarios and the Taller de Gráfica Popular creating propaganda related to the ideals of the Mexican Revolution and against the rise of Fascism in the 1930s. Despite his importance in 20th-century artistic and political circles, Méndez was a relatively obscure figure during his life, and remains so afterwards. The reasons for this generally relate to the fact that he believed in working collaboratively and anonymously for the good of society rather than for monetary gain and because the socialist and communist themes of his work fell out of favor with later generations. Despite this, he has received some posthumous recognition with Mexican scholarship considering him to be the successor to graphics artist José Guadalupe Posada.