News Article
Subscribe to Gonzaga University's News Service RSS Feed
Dateline: 10/30/2007
GONZAGA UNIVERSITY NEWS RELEASE
Dale Goodwin, Director
Peter Tormey, Associate Director
'Food for Thought' Exhibit Open Through March 8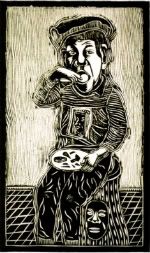 H. Andrew van Wyk (Namibian, b. 1963)|Eating Something, 1983. 19.5 x 11.7"| Relief print: hardboard|Collection of Gonzaga University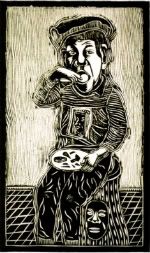 "FOOD FOR THOUGHT," an exhibition of prints coinciding with Gonzaga University's 2007-'08 discussion topic, FOOD, will be on display in the Arcade Gallery of Gonzaga's Jundt Art Museum from Nov. 30 through March 8 (2008).
Food images and related themes (eating, agriculture, etc.) are represented in 20th and 21st century works by artists Thomas Hart Benton, Jim Butler, Sue Coe, Umberto Giangrandi, James Havens, Nona Hersey, Nangombe Kapanda, Clare Leighton, Reginald Marsh, Leopoldo Mendez, Ndasuunje Shikongeni, Wayne Thiebaud, Barbara Earl Thomas, Stanislaw Wejman, H. Andrew van Wyk, and Tomoe Yoki. The exhibit is comprised of work from the Gonzaga University Collection and private collections.
A free public walk-through of the exhibit with Assistant Curator for Education Karen Kaiser, will take place at 10 a.m., Friday, Nov. 30.
Continuing in the Jundt Galleries is the exhibit of installations by feminist artist and activist Harriet Sanderson. Sanderson's exhibit is an insightful look into aging and disability. "Harriet Sanderson: Limbus" runs through Dec. 12. The exhibit is co-sponsored by Gonzaga's Office of Disability Resources.
The Jundt Art Museum is open to the public at no cost. Museum hours are 10 a.m. to 4 p.m. Monday through Friday; Saturdays noon-4 p.m.; closed Sundays and the following school holidays: Dec. 24-25, 31 & Jan. 1, 19-21 & Feb. 16-18 (2008).
For more information, please contact Karen Kaiser, assistant curator for education, at (509) 323-6613 or via e-mail.