Exhibits 2006-2007
IN THE ARCADE GALLERY
MARCH 23 - JULY 31, 2007
MARDIS NENNO: ORIEL
Sponsored by Quarry Tile Company, Spokane, Washington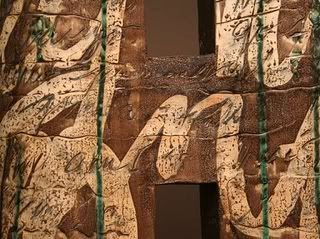 Image: Mardis Nenno (American, b. 1952)
Preguntas 1, (detail) 2006
Ceramic: oxidation fired stoneware. 40" x 14" x 6"
IN THE JUNDT GALLERIES
APRIL 20 - MAY 12, 2007
SENIOR THESIS EXHIBIT
featuring the work of the graduating seniors from the Art Department of Gonzaga University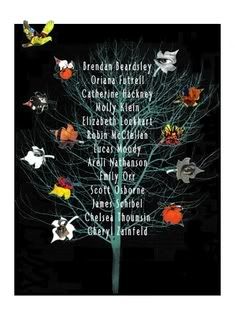 IN THE JUNDT GALLERIES
JANUARY 19 - APRIL 4, 2007
FAITH RINGGOLD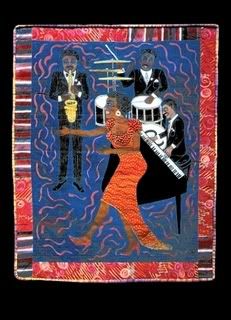 Image: Jazz Stories: Mamma Can Sing, Papa Can Blow #6, I'm Leavin in the Mornin, 2004
Acrylic on canvas with pieced border. 82 x 65"
Courtesy of the artist and ACA Galleries, New York, NY.
Faith Ringgold began her artistic career more than 35 years ago as a painter. Today, she is best known for her painted story quilts -- art that combines painting, quilted fabric and storytelling. She has exhibited in major museums in the USA, Europe, South America, Asia, Africa, and the Middle East. She is in the permanent collection of many museums including the Studio Museum in Harlem, the Solomon R. Guggenheim Museum, The Metropolitan Museum of Art, and The Museum of Modern Art. Her first book, Tar Beach was a Caldecott Honor Book and winner of the Coretta Scott King Award for Illustration, among numerous other honors. She has written and illustrated eleven children's books. She has received more than 75 awards, fellowships, citations and honors, including the Solomon R. Guggenheim Fellowship for painting, two National Endowment for the Arts Awards and seventeen honorary doctorates, one of which is from her alma mater The City College of New York.
Faith Ringgold is married to Burdette Ringgold and has two daughters, Michele and Barbara Wallace; and three granddaughters, Faith, Theodora and Martha. She is a professor of art at the University of California in San Diego, California. Faith Ringgold's Official Website
IN THE ARCADE GALLERY
DECEMBER 1, 2006 - MARCH 10, 2007
SPORTS OF ALL SORTS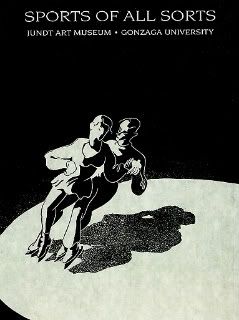 Image: Lila Oliver Asher (Contemporary American)
Skater's Waltz, 1980. linoleum cut. 19.5 x 14.5"
Collection of Gonzaga University
Gift of Milton and Ingrid Rose
This exhibition featured sporting prints from the permanent collection
of Gonzaga University. These prints were selected to reflect a broad range
of sporting events, including ice skating, track, hockey, baseball, cycling,
surfing, swimming, and polo. On display was a variety of prints representing the work
of regional and national artists.
The Jundt Art Museum welcomed the 2007 State Farm US Figure Skating Championships
to Spokane, Washington.
IN THE JUNDT GALLERIES
OCTOBER 20 - DECEMBER 13, 2006
BRAD BROWN: Getting Used to Using Each Other
Paintings, prints and drawings.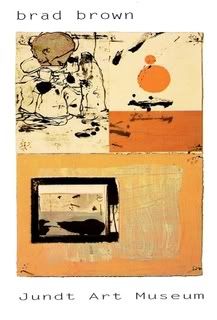 for more information about the artist and his work:
Brad Brown
IN THE ARCADE GALLERY
AUGUST 15 - NOVEMBER 18, 2006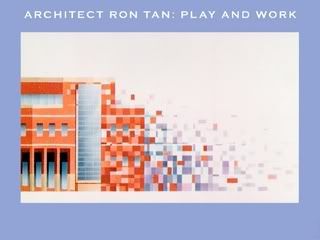 Image: Ron Tan (Contemporary American)
Artist's Rendering of the Foley Center, (detail), 1991.
Collection of the architect
IN THE JUNDT GALLERIES
RECENT GIFTS AND ACQUISITIONS
September 1 - October 11, 2006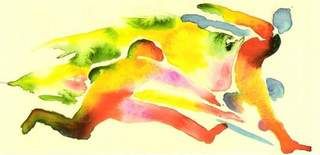 Image: Maxine Martell (Contemporary American)
Power to Move, (detail), 1986, watercolor and pencil, study for glass installation,
Clover Park High School, Tacoma, WA.
Collection of Gonzaga University
Gift of the artist
IN THE ARCADE GALLERY
STUDENT PAINTINGS FROM THE COLLECTION
MARCH 20 - JULY 31, 2006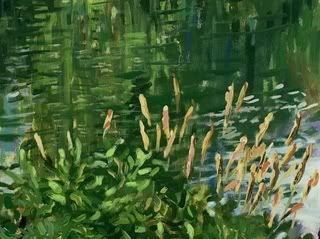 A selection of paintings from Gonzaga University's student collection. Included
in the exhibit were works by Paula Favaro, Christian Helfrich,
Anthony Jones, Katey (Mandley) Brower, Rose Matthis, Michael Pace,
Jodi Pomeroy, Doug Safranek, Tracy Stone, Pedro Surroca, and Jihyun Yu.

Image: Doug Safranek (Contemporary American)
Untitled (detail), 1978. Oil on canvas
Gonzaga University Student Art Collection
Gift of the Gonzaga University Women's Club