JUNDT and ARCADE GALLERIES
October 4, 2014 to January 10,2015
Amen, Amen: Religion and Southern Self-Taught Artists in the Mullis Collection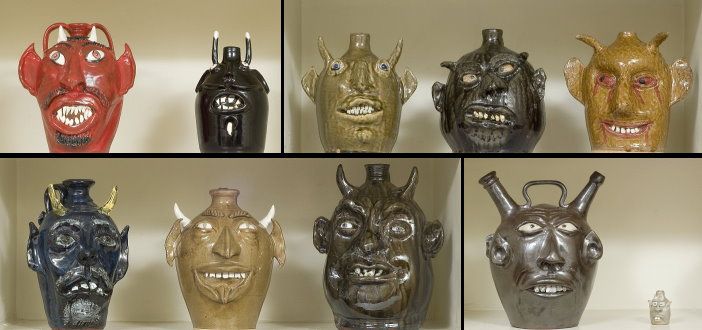 Southern face jugs, especially featuring devils, reoccur in the Mullis Collection. From the late 1960s to the mid-1970s, southern pottery, especially the face jugs of the Meaders family of Georgia and the Catawba Valley potters of North Carolina, became a national phenomenon in advance of the U.S. bicentennial. Potters often used kaolin to form eyes and teeth although examples exist that use quartz or other rocks. Lanier Meaders, who was involved in the Smithsonian's Festival of American Folklife and received a National Heritage Fellowship from the National Endowment for the Arts, had mixed feelings about his own face jugs and the art market: "They're about the ugliest thing a person could make. Seems like the more useless I make something the more they'll trample each other to get to it." Yet, by the 1980s, Meaders, his family, and other pottery families in Georgia were making primarily face jugs for the market. The face jugs represent a mix of cultural influences from the German "bearded man" Bartmannskrug to African anthropomorphic "spirit" pots. Especially within the subcategory of devil jugs, the objects operate as intellectual and aesthetic heirs to medieval gargoyles, which functioned as downspouts for water runoff but also served as guardians of the church and as symbols of the evil forces—temptations and sins—existing in the physical world beyond the walls of the church. The silly or downright malevolent faces on the devil jugs in this exhibition represent a continuation of both the functional and symbolic meanings of those various cultural and aesthetic influences.
from the exhibition catalogue,
Amen, Amen: Religion and Southern Self-taught Artists in the Mullis Collection, by Dr. Paul A. Manoguerra
The 64-page, full-color exhibition catalogue is for sale at Auntie's Books, the Jundt Art Museum, and online. Click here to purchase for $20 plus tax and shipping.